Welcome to our guide on how to make Authentic Vietnamese Style Creamy Iced Coffee! This delicious coffee drink is a refreshing and unique twist on traditional iced coffee, and is made using a special brewing process and only the finest coffee beans. Whether you're a coffee connoisseur or just love trying new and exciting drinks, you'll love the creamy and smooth texture of Authentic Vietnamese Style Creamy Iced Coffee. In this article, we'll walk you through the step-by-step process for making this delicious drink at home. So grab your ingredients and let's get started!
The History of 7 Leaves Cafe
7 Leaves Cafe (
official web-site
) has made a name for itself in Southern California, and it's not stopping there. The cafe is expanding its reach to Nevada, Texas, and beyond. 7 Leaves is dedicated to providing excellent customer service and a high-quality experience. No matter where they are, customers can continue enjoying the same outstanding care that 7 Leaves Cafe is known for.  They reflected their mission and values in their motto:
To enrich and embrace the human experience through our commitment to serve the very best coffee, tea, and goodness in every cup, in every community.
What inspired the name 7 Leaves for this renowned cafe? The answer lies in the seven unique herbal ingredients that create their signature tea. When brainstorming a logo, Ha Nguyen, one of the younger brothers behind 7 Leaves, wanted to find something distinctive but not too outlandish. After experimenting with various ideas and concepts they finally hit on the perfect blend—7 Leaves was born!
Authentic Vietnamese Style Creamy Iced Coffee
Authentic Vietnamese style ocffee is a unique blend of robust espresso and sweetened condensed milk over ice that creates an absolutely delicious taste sensation. This type of iced coffee requires a specific brewing process, one which utilizes premium-grade Arabica beans, freshly ground and perfectly steeped. The addition of condensed milk adds a creamy sweetness that cannot be replicated by regular sugar or any other type of sweetener. And finally, the end result—a cup filled with a complex flavor profile and an unforgettable aroma—is a testament to the skill and care that goes into producing this Vietnamese-style iced coffee.
Three main factors effect the taste of the Vietnamese iced coffee are:
quality,
grind of the coffee
and the quantity of the sweetened condensed milk.
While Cafe Du Monde coffee is often considered the classic Vietnamese cafe, many restaurants and cafes in Little Saigon (Orange County) have adopted a higher-quality bean. Not to mention, my cousins took us to some of the best spots while we were visiting Vietnam; all using an even more outstanding roast than what's found here in America!
Brewing Methods for Vietnamese Iced Coffee
Our easy-to-follow recipe can be made in no time using two different methods so you can enjoy this fantastic drink whenever!
1. Using Traditional Vietnamese Coffee Filters
If you are looking for a way to savor the flavor and customize each glass of coffee, then the traditional Vietnamese Coffee Filters offer an enchanting solution. This classic iced coffee filter allows you to watch as your brew slowly drips into every cup – what could be more beautiful than that? Whether seeking a cozy morning ritual or something special with friends, this slow and poetic method is just right!
2. Using Ordinary Espresso
For those who prefer the classic coffee filter method, there is something serene in waiting patiently as one drip at a time slowly steeps into your cup; while for others, watching a creamy shot of espresso swirl around and mix with sweetened condensed milk proves captivating.
7 Leaves House Coffee Recipe
Start by choosing a high-quality coffee bean and adjusting the grind to fit your filter. You can customize the sweetness of the condensed milk to your liking by mixing it with half-and-half cream. If you're short on time, use an espresso shot instead of brewing through a traditional filter.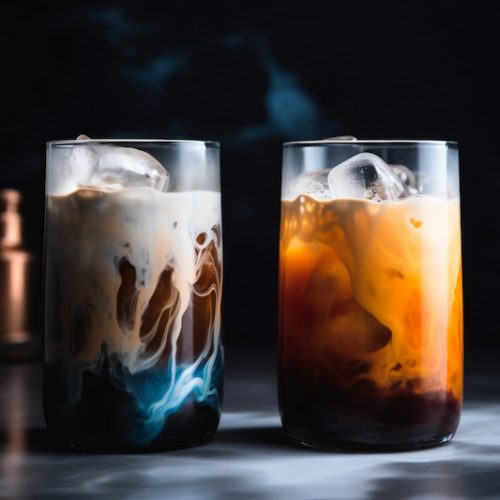 Print
7 leaves house coffee recipe
Authentic Vietnamese Style Creamy Iced Coffee is a refreshing and delicious coffee drink that is made using a unique brewing process and only the highest quality coffee beans. The coffee is brewed using a special filter and sweetened condensed milk, creating a creamy and smooth texture. It is then served over ice for a cool and refreshing treat.
Equipment
1 french press

1 glass for mixing

1 serving glass
Ingredients
3

tbsp

coarse ground coffee like Café du Monde coffee,

the grind as for a french press

2

tbsp

sweetened condensed milk

8-10

oz

boiled water

2

tsp

cocoa powder
Instructions
Pour two tablespoons of sweetened condensed milk to a glass. Add cocoa powder and stir.

Add 3 tablespoons of ground coffee to the bottom of your french press. To awaken the grounds, sprinkle a few drops of hot water on top.

Make sure to securely screw the press tight. Pack the coffee snugly for optimal quality.

Pour boiled hot water into the coffee press.

Cover the press with its little hat and let the coffee drip. It takes some 3-5 minutes.

While it's dripping, get some ice cubes in the serving glass.

Blend the ingredients together until they are completely and evenly combined. Then, carefully pour the coffee into a glass filled with ice for an icy-cool beverage.

Serve the drink immediately. Enjoy!