At first glance, maple coffee looks completely exotic, but in fact it has long taken its place among coffee drinks. In addition to pure coffee with a maple flavor, you can try a maple macchiato, or a maple cortado, or a pumpkin-maple espresso. But don't be afraid, in this article we will look at basic, not so complicated ways of preparing maple coffee.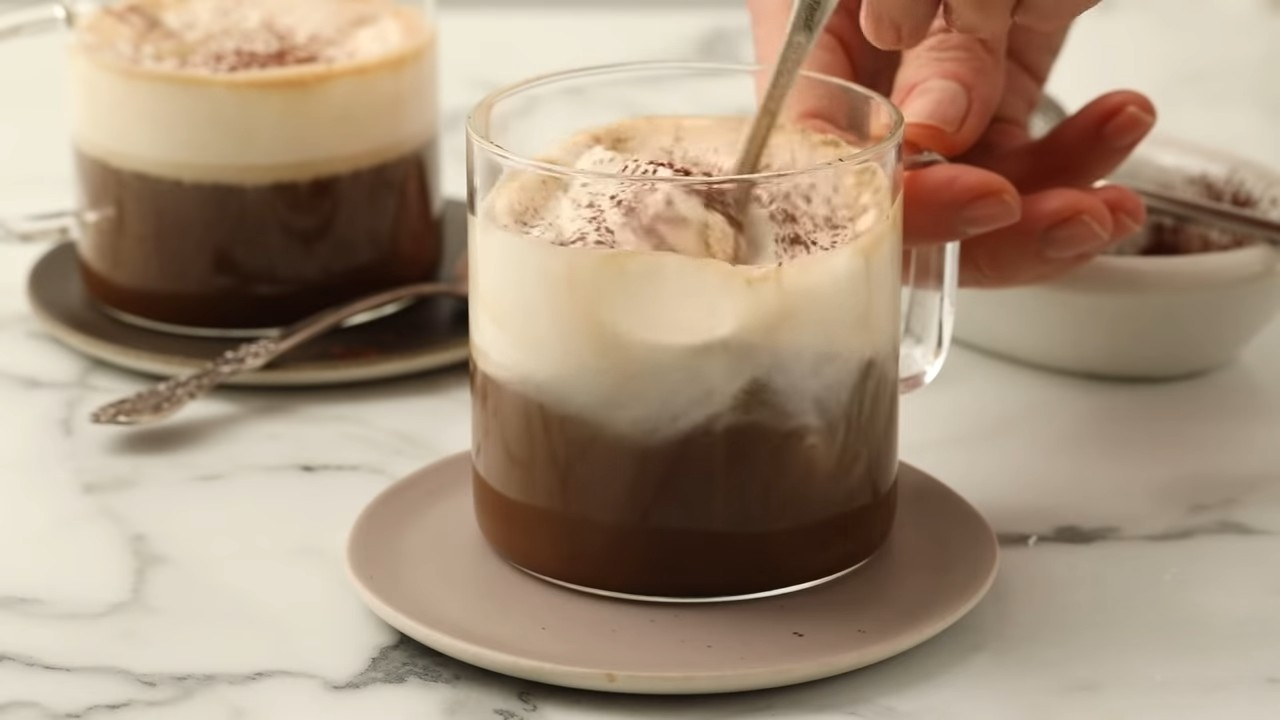 The Unique Qualities of Maple Coffee
Have you ever had the pleasure of tasting maple coffee? Let me tell you, it's a real game changer. Both maple syrup and maple sugar are known to be the symbols of Canada. And today we will introduce you to maple coffee, originally from Canada.
The best part about maple coffee is that it's made from real, organic maple, so you can enjoy its rich and bold flavor. The incorporation of maple into the coffee beans adds a unique and unforgettable flavor of roasted nuts and dark caramel to your coffee. It's truly unlike any other coffee drink you've ever tasted before.
Plus, if you're looking for a sweet breakfast, maple coffee is the way to go. Whether you're having pancakes, waffles, or toast, a cup of maple coffee will perfectly complement these sweet dishes. And not to mention the combination with crispy bacon. It's a whole new level of deliciousness.
But the most interesting thing is that maple coffee has long been used among connoisseurs as a base for all kinds of milk and cream-based drinks. In a sense, maple latte has already become a classic of coffee culture among advanced baristas, followed by cappuccino, latte, macchiato, mocha, and glace. The dense consistency of maple syrup coffee makes it the perfect base for a variety of delicious drinks.
How Are Maple Coffee Beans Made?
One way to make maple coffee is to buy ready-made coffee beans that have already been flavored with maple. Maple-flavored coffee is made from high-quality 100% Arabica coffee beans grown on Latin American and Indonesian plantations. We recommend choosing premium coffee beans, where the manufacturer never skimpes on quality, so that the finished coffee reproduces a multi-layered and balanced taste.
To create the maple flavor, natural maple flavoring is carefully blended with premium coffee. The result is a perfect balance of coffee and maple flavor that will leave your taste buds craving more.
How To Make Maple Coffee Beans At Home?
If you're into experimentation, you can take it a step further – some manufacturers give you the option of purchasing the roasted coffee and organic maple flavor separately so you can mix them yourself at home.
To make your own maple-flavored coffee, simply mix one teaspoon of organic maple flavoring with one pound of organic coffee beans. Let the mixture steep for a day to allow the flavor to fully infuse the beans, and then grind them to your desired size. The result is a rich and delicious maple-flavored coffee that you can enjoy anytime.
Video: How to Flavor Coffee Beans
Method #1:  Using Ready-Made Maple Coffee Beans / Ground Maple Coffee
In this case, you should buy ready-made maple coffee beans (or ground maple coffee). Having the main ingredient, you can brew coffee in your favorite way – pour over, drip, aeropress, or espresso. The finished drink will have a pronounced maple flavor in the bold coffee taste.
You can choose any of the options below.
Zavida's Canadian Maple Coffee
This Canadian Made Maple Coffee will transport you to the very heart of Canada!
Created with the perfect balance of natural maple flavoring and high-quality coffee beans, Zavida's Canadian Maple Coffee provides a rich and authentic taste that is sure to satisfy even the most demanding coffee drinkers. Unlike other brands, which often fall into the category of intrusive or outright artificial flavors, Zavida seems to have truly mastered the art of coffee making.
As soon as you open the bag, you will literally be knocked off your feet by the aroma of this coffee. Zavida is the perfect choice for connoisseurs, for those who appreciate the subtle nuances of coffee. There is no need to add cream or sugar, this coffee is mild and rich enough to satisfy your taste buds.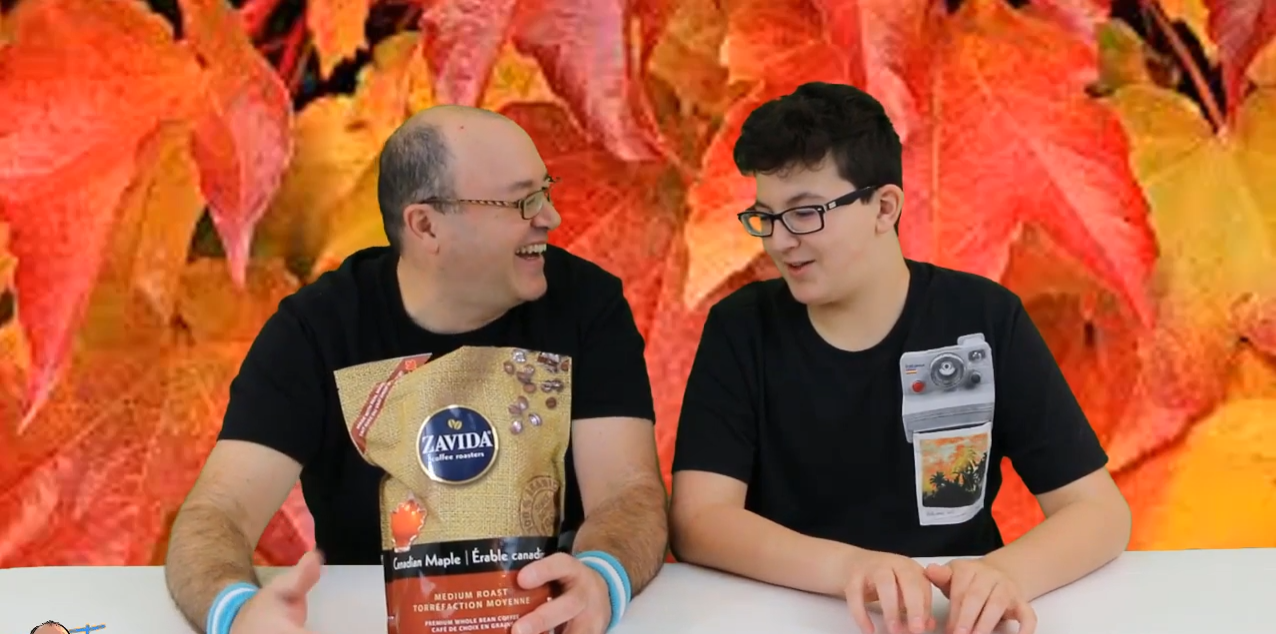 Maple Bourbon Coffee
Got Your Six Coffee Co (GY6CC) is an American company with a mission to support those who serve and protect communities. Their freshly roasted and award-winning coffees are for true gourmets, freshly roasted to help fund non-profit organizations that support EMTs, rescue workers, firefighters, veterans and their families.
The name of the company, Got Your Six Coffee, is derived from a popular military phrase that signifies the concept of having someone's back. The expression "I've got your six" is often used by military personnel to indicate that they are providing support and protection from behind. The term "six" is a reference to the six o'clock position on a clock, which is directly behind a person.
Maple Bourbon Coffee is the perfect combination of sweet maple syrup and caramel, with a light touch of bourbon. It's great for home, but if you brew it at work, you're guaranteed to become an office superstar.
Starbucks Holiday Blend
When you buy Starbucks coffee, you always get the same taste of Starbucks branded coffee, familiar to you from childhood movies and TV shows.
This coffee is suitable for French press, filter, drip coffee maker. You also can adjust the degree of strength yourself, for example, it is recommended to use 10 g of coffee and 180 ml of water for 1 cup, but if you like a stronger drink or with bitterness, you can increase the amount of brewed coffee, for example, by 20 g, and get an even richer taste with great sensations.
Starbucks Holiday Blend Herbal and Sweet Maple Notes ground coffee is a medium-roasted 100% Arabica coffee, each cup of which has a delicate flavor with notes of sweet maple and herbs.
Method # 2: Adding Maple Syrup To Freshly Brewed Coffee
Coffee with the addition of maple syrup is more difficult to prepare, because in this case, initially you take ordinary, unflavored coffee beans, and the maple syrup flavor is created with the help of maple syrup. Many people are used to the idea that all syrups are definitely harmful and dangerous. However, maple syrup is an exception. The product has a natural composition with an impressive list of beneficial properties.
A good idea is to prepare a topping to decorate the maple coffee. To do this, you will need to mix starch, chocolate and powdered sugar with water and brew, stirring constantly.
So, in a nutshell, there are only 3 steps: brew espresso, then put maple syrup in the bottom of a glass, pour coffee and add topping on top. It's not as difficult as it seems, is it?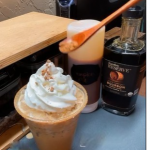 Print
Iced Coffee With Maple Syrup
The perfect maple flavor for hot days
Equipment
1 Coffee Maker

1 Turk

1 Glass
Ingredients
½

cup

plain milk

1 and ½

cup

water

2

tbsp

groun coffee beans

1

tbsp

maple syrup
Topping
2

tbsp

corn starch

¼

bar

chocolate

4

tsp

powdered sugar
Instructions
Making A Topping
Take powdered sugar, grated and melted chocolate, cocoa, corn starch, water and mix all the ingredients.

Pour all this over a Turk and put it on fire. When the mixture begins to thicken, remove the Turk from the heat.

Next, wait for the topping to cool and pour it into a pot with a thin spout so that it is convenient to draw patterns.
Making Coffee
Brew espresso with 1 cup of water and ½ cup of milk.

Pour maple syrup into the bottom of a glass.

Carefully pour the topping through the spout.
Video: Maple + Cinnamon Latte
Method #3: Coffee Creamer – What Kind Of Thing Is It?
Preparation of coffee cream is a variation of the previous method. The difference is that you don't just add separate both milk and maple syrup to freshly brewed coffee, but prepare creamer with milk and syrup in a separate vessel.
Coffee creamers improve the taste, texture and appearance of coffee. It is usually added to coffee as a substitute for milk or cream and comes in a variety of flavors such as vanilla, hazelnut, caramel and mocha.
Creamer can be dairy-based or dairy-free. Non-dairy creamers are typically made from a combination of water, sugar, and vegetable oil, and often contain additives such as stabilizers, emulsifiers, and flavorings. They are a popular option for people who are lactose intolerant, vegan, or simply looking for a lower calorie alternative to dairy creamer.
Dairy-based creamers, on the other hand, are made from milk or cream, and are often sold in a liquid or powdered form. They typically have a richer and creamier texture than non-dairy creamers, but may not be suitable for people with lactose intolerance or milk allergies.
Maple Cinnamon Coffee Creamer Recipe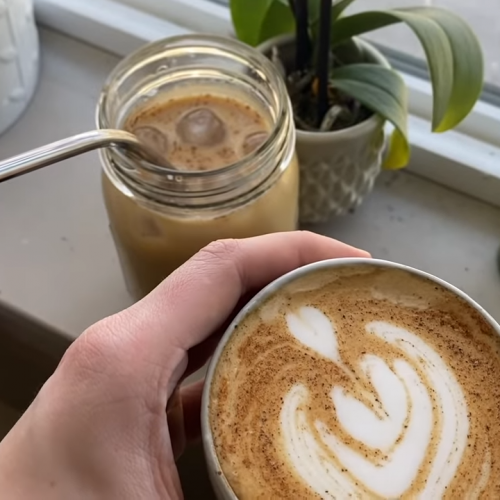 Print
Maple Cinnamon Coffee Creamer
A great addition to your Maple Coffee!
Equipment
1 glass jar with a tight-fitting lid

1 measure spoon
Ingredients
1 and ½

cups

half and a half

⅓

cup

pure maple syrup

2

teaspoons

ground cinnamonIn
Instructions
In a jar, combine thehalf and half, maple syrup, and ground cinnamon.

Secure the lid and shake the jar vigorously until all the ingredients are fully combined.

Add the desired amount of creamer to your coffee andenjoy the sweet and delicious taste of maple cinnamon!