In the crowded and competitive world of coffee culture, the Oreo Frappuccino stands out as a favorite and a treat. But what is the history of this wonderful drink and how did it become a staple in coffee shops and cafes around the world? Delving into the origins of the Oreo Frappuccino, we explore the fascinating history of this iconic drink and the cultural significance it holds today. Since its humble beginnings as a secret menu item, the Oreo Frappuccino has captured the hearts and taste buds of coffee enthusiasts around the world. Join us as we reveal the recipe for this favorite drink.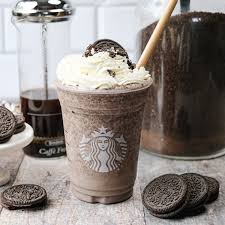 History of Oreo Frappuccino Recipe
The Oreo Frappuccino Recipe is a popular coffee-based drink that is made with Oreo cookies and vanilla ice cream. The history of this recipe dates back to the early 1990s when Starbucks first introduced Frappuccinos to their menu. The original Frappuccino recipe was a mix of coffee, milk, ice, and sweeteners, but over time, Starbucks started experimenting with different flavors and ingredients to create new variations of the drink.
In the early 2000s, the Oreo Frappuccino Recipe started gaining popularity, and it quickly became one of the most sought-after drinks at Starbucks. The recipe involves blending Oreo cookies, vanilla ice cream, milk, and ice, creating a creamy and delicious drink that's perfect for any sweet tooth. The Oreo Frappuccino Recipe has since become a staple on the Starbucks menu and a popular drink among coffee lovers around the world.
Oreo Frappuccino Recipe
Oreo Frappuccino is a tantalizingly indulgent blend of coffee, ice cream, and the iconic Oreo cookie. And the best part? You can whip up this mouth-watering treat right in the comfort of your own kitchen. Get ready to immerse yourself in a heavenly, velvety, and downright scrumptious drink that will have you hankering for more with every sip.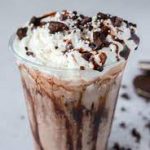 Print
Oreo Frappuccino Recipe
Oreo Frappuchino is a type of cold coffee loaded with the chunks of Oreo Cookies along with ice cream, milk, coffee, and chocolate syrup.
Equipment
1 Blender

1 serving glass

1 straw
Ingredients
1

tsp

instant coffee powder

¼

cup

full-fat milk

3

scoops

vanilla ice-cream

10

ice-cubes

2

tbsp

chocolate sauce

4

tbsp

wipping cream
Instructions
Add all the ingredients except the whipping cream into a blender.

Mix all the ingredients until they become a dense paste.

Pour the mixture into a serving glass.

Top it up with some whipping cream.

Add some crushed Oreos and chocolate sauce on top for an extra flavor kick!
Variations of the Oreo Frappuccino recipe
The beauty of the Oreo Frappuccino recipe is that it is versatile and allows for plenty of variations. For instance, one can swap the vanilla ice cream for chocolate ice cream to create a richer, more decadent version of the drink. Some people also like to add a tablespoon of peanut butter to the mix to give the drink a nutty, buttery flavor. Another fun variation is to add a scoop of cookie dough ice cream to the mix and top it off with whipped cream and a drizzle of caramel sauce. The possibilities are endless, and it all comes down to personal preference and creativity.
For those who are health-conscious, there are also healthier variations of the Oreo Frappuccino recipe. For example, one can use low-fat or non-fat milk and ice cream, and replace the chocolate sauce with a sugar-free chocolate syrup. Adding a scoop of protein powder can also turn the drink into a protein-rich, post-workout treat. With a little bit of experimentation and some creativity, one can come up with a healthier version of the Oreo Frappuccino that still tastes amazing and satisfies the sweet tooth.