Do you love caffeine, but are heading down the road to bankruptcy because of the ridiculously high prices of coffee shops?
Making your own coffee
at home will save you a ton of money. Many home coffee machines are on par with, if not better than, the machines they use in shops. You can brew your own tasty coffee without having to leave your kitchen.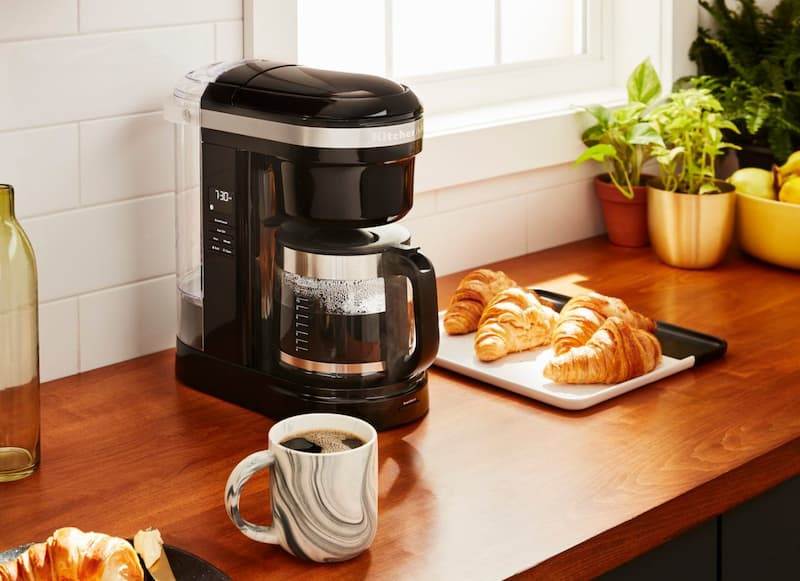 Coffee and Espresso Machine: the Best of Both Worlds
When it comes to coffee preferences, some individuals are drawn to the bold and robust flavors of dark, black coffee, while others find delight in the creamy and indulgent experience of milky coffees like cappuccinos and lattes. But what if you could have the best of both worlds in a single machine? Imagine the convenience and versatility of being able to enjoy both dark coffee and milk coffee creations from a single appliance.
Enter the innovative Coffee and Espresso Machine, designed to cater to the diverse tastes and preferences of coffee enthusiasts. This exceptional machine combines the capability to brew rich and intense dark coffee with the finesse to create velvety milk-based beverages, all in one sleek and convenient package.
With advanced brewing technology and customizable settings, this coffee machine allows you to explore the realm of coffee possibilities. For those seeking a bold and uncompromising coffee experience, the machine offers precise control over factors like water temperature and extraction time, ensuring that every cup of dark coffee is brewed to perfection, bringing out the intricate flavors and nuances of your favorite beans.
On the other hand, if you crave the creamy delight of milky coffee creations, this versatile machine is equipped with a state-of-the-art milk frothing system. With just a touch of a button, you can effortlessly create luscious foam for cappuccinos and silky steamed milk for lattes, all with the same machine that brewed your dark coffee moments before.
Milky Coffees
When it comes to indulging in milky coffee delights like cappuccinos and lattes, finding the right machine becomes essential. These beverages are defined by their creamy texture and velvety foam, and achieving that perfect balance requires a machine that is specifically designed to excel in creating these milky masterpieces.
While most coffee and espresso machines can make a decent espresso shot, not all of them possess the necessary features and capabilities to produce the rich, thick foam required for crafting authentic cappuccinos and lattes The key lies in finding a machine that excels in milk frothing and steaming, as these are crucial components in achieving the desired texture and consistency of the milk.
Look for machines with advanced milk frothing systems, such as steam wands or automatic milk frothers, that are capable of creating microfoam with ease. Microfoam refers to the finely textured milk foam that is essential for creating latte art and adding a luxurious mouthfeel to milky coffee beverages. Additionally, machines with adjustable settings for milk temperature and foam density allow you to customize your drinks according to your personal taste preferences.
Investing in a coffee and espresso machine specifically designed for milky drinks ensures that you can enjoy barista-quality cappuccinos and lattes in the comfort of your own home. With the right machine by your side, you can savor the indulgence of creamy and frothy concoctions that are sure to impress even the most discerning coffee lovers.
BUYER'S GUIDE
When it comes to buying a milk coffee machine, there are several important factors to consider. Here's a buyer's guide outlining the key aspects you should pay attention to:
Milk Frothing System: One of the most critical features in a milk coffee machine is the milk frothing system. Look for machines that offer a high-quality frothing mechanism, such as a steam wand or an automatic milk frother. The frothing system should be capable of producing creamy and velvety microfoam for lattes, cappuccinos, and other milk-based beverages.
Espresso Extraction: Apart from the milk frothing system, the espresso extraction capability of the machine is crucial. Ensure that the machine delivers consistent and flavorful espresso shots. Look for features like adjustable brew pressure, temperature control, and a powerful pump to achieve optimal extraction.
Ease of Use: A good milk coffee machine should be user-friendly and intuitive to operate. Consider features like programmable settings, pre-programmed drink options, and clear controls. Additionally, easy maintenance and cleaning features like removable brew group, drip tray, and water reservoir are beneficial.
Size and Capacity: Consider the size and capacity of the machine based on your needs. If you have limited counter space, compact models are ideal. Similarly, if you often entertain guests or have a large household, opt for machines with larger water reservoirs and milk carafes to accommodate more servings.
Build Quality and Durability: Look for milk coffee machines made from high-quality materials like stainless steel or aluminum. A durable machine will ensure longevity and withstand regular use. Read reviews or look for reputable brands known for their build quality.
Customization Options: If you enjoy experimenting with different coffee recipes, consider machines that offer customization options. Look for adjustable settings for grind size, water temperature, and shot volume. Some advanced machines may even have built-in coffee profiles for different beverages.
Brand Reputation and Customer Support: Research the reputation of the brand you're considering and check customer reviews for feedback on reliability, customer support, and after-sales service. A reputable brand with good customer support can provide peace of mind and assistance if you encounter any issues.
Budget: Set a budget based on your requirements and stick to it. There is a wide range of milk coffee machines available at various price points, so consider the features that matter most to you and find a machine that offers the best value for your investment.
Coffee Grinders vs. Coffee Machines
These two machines are not the same, and they both perform different functions.
Coffee grinders
make ground coffee through methods such as burr-grinding, chopping, pounding, and roller grinding. More about coffee grinders featuring you can red in our article
Top 5 Best Coffee Grinder – Buyer's Guide.
On the other hand, coffee machines, like the one on this list, make brewed coffee. Coffee can be prepared in many different ways, and the taste will be different as well.
What is The Best Coffee and Espresso Machines in 2023?
Patented "Cappuccino System" frother. Easy-to-use rotary and push button control panel. "Direct-to-Brew" system.
15 flavor varieties. High-pressure system (up to 15 bars). A-rating in energy consumption. Create a custom hot or cold specialty beverage.
A sleek profile, compact design and narrow footprint. Barista quality foam. Thermos block technology. Automatic flow stop.
Advanced 1350W big power Thermoblock Fast Heating System. 2 separate thermostats control. 25mins Auto Shut-off. Overheating Protection. Auto Pressure Relief.
Advanced automatic frothing system by De'Longhi. One-touch system for Latte lovers. The Touch's sleek Italian craftsmanship.
Last update on 2023-09-29 / Affiliate links / Images from Amazon Product Advertising API
We have also prepared some reviews of the best home appliances for coffee
1. De'Longhi ESAM3300 Magnifica Super-Automatic Espresso & Coffee Machine – Best Overall
Sale
De'Longhi ESAM3300 Magnifica Super Automatic Espresso & Coffee Machine, Silver
Note: 1)Too coarse a grind, too little coffee, or insufficiently tamping the grounds...
FRESH ESPRESSO FOR EVERY CUP: The professional burr grinder with 13 adjustable...
YOUR FOAM, YOUR WAY: A manual frother mixes steam and milk to create a rich, creamy...
CONSISTENT BREWING EVERY TIME: Each cup is automatically brewed to the perfect...
EASY TO CLEAN AND HANDLE: The compact, extractable brew unit is not only easy to...
Last update on 2023-09-29 / Affiliate links / Images from Amazon Product Advertising API
FIRST IMPRESSIONS
This
coffee maker
is larger in size compared to the other ones on this list. You probably need to have substantial space for this to fit into your kitchen. The machine has touch control with labels that are easy to understand.
PERFORMANCE
There seems to be no real problem with the functionality of this super-automatic espresso & coffee machine (read more about super-automatic espresso machines here). It is pretty straightforward, and there is a manual that you can read before attempting to use it. You can also watch the how-to videos on the De'Longhi official YouTube channel if you don't like reading. With this machine, you can make several different types of coffee including espresso, cappuccinos, and lattes. The steam wand is not too powerful but it adds a good amount of froth for milky beverages. Although, cleaning the steam wand can be a bit of a chore.
Pros
Customizable aroma
Manual milk frother
Silent integrated grinder
Self-cleaning properties
Video: DeLonghi ESAM3300 Magnifica Super-Automatic Espresso Coffee Machine Review with Pros & Cons
2. Nescafe Dolce Gusto Mini Me Coffee Machine –Editor's Choice
NESCAFÉ Dolce Gusto Coffee Machine, Genio 2, Espresso, Cappuccino and Latte Pod Machine, Silver
The NESCAFE Dolce Gusto Genio 2 is an automatic capsule coffee machine, designed to...
COFFEE HOUSE INSPIRED DRINKS - Explore the wide variety of decadent flavors and...
EASY INTERFACE - Use the toggle-stick to adjust the LED display controlling the size...
PRESSURE BASED SYSTEM – The Genio 2's 15 bars of pressure allows high level...
ULTIMATE COFFEE FRESHNESS - After spending our time crafting the perfect coffee, we...
Last update on 2023-09-29 / Affiliate links / Images from Amazon Product Advertising API
FIRST IMPRESSIONS
The
Nescafe Dolce Gusto machine
has a unique design that you won't see in other coffee machines. There is a carafe at the back for the water, and you use special coffee capsules for this.
PERFORMANCE
This machine is quite easy to use with simple controls. There is a water level meter that will let you know how much water you need for different capsules. You can also choose to make your coffee either hot or cold. If you drink iced coffee often, this would be an excellent feature. One of the best features of this machine would probably be the eco mode. If the machine has been inactive for more than 5 minutes, it will turn off automatically. This will allow you to save on energy consumption, and this may be useful if you are the type to forget to unplug appliances.
Pros
Has a power-saving mode
Easy to control
Modern design
5 capsule boxes value bundle
Cons
The coffee capsules are a bit pricey
Video: How to prepare a Cappuccino with your NESCAFE DOLCE GUSTO Mini Me coffee machine
3. De'Longhi Dedica Style Pump Espresso Machine – The Richest Foam
Sale
De'Longhi Dedica 5-Bar Pump Espresso Machine, 35 Ounces, Black
Note: 1)Too coarse a grind, too little coffee, or insufficiently tamping the grounds...
Sleek design takes up only 6 inches of counter space, while still having a 35oz water...
The Cappuccino frothing system provides Barista quality foam; Cup warmer: Passive
Thermos block technology allows the machine to heat up to the ideal temperature in a...
Automatic flow stop
Last update on 2023-09-29 / Affiliate links / Images from Amazon Product Advertising API
FIRST IMPRESSIONS
This
machine
is available in a nice deep red color. It's a traditional pump coffee machine, though it has a modern look and feel. The machine also has a steam frother arm that is adjustable.
PERFORMANCE
If you love Italian espressos, this may be a good option for you. This machine has Thermoblock Technology that will heat up your coffee to the ideal brewing temperature. In around 40 seconds or less, it can make up to two servings of espresso. It also has a flow stop feature that will prevent the espresso from overflowing. You could use the steam frother arm to make a delicious foamy cappuccino as well. This makes this coffee machine pretty versatile.
Pros
Fast heating time
Compact size
Makes two espressos at once
Has a milk foam frother
Video: How to descale your Dedica Pump Coffee Maker EC680 and EC685
4. Gevi Espresso Semi-Automatic Machine – Best Value of Money
Last update on 2023-09-29 / Affiliate links / Images from Amazon Product Advertising API
FIRST IMPRESSIONS
Compared to other coffee machines, this semi-automatic espresso machine is available at a much more affordable price (more about semi-automatic espresso machines
here
). This is suitable for people who enjoy coffee but don't necessarily want a fancy machine. Still, it does not look cheap and looks just as good as premium coffee makers. One of its unique features is the swivel steam jet nozzle that adds frothy milk to your coffee.
PERFORMANCE
Designed to satisfy the cravings of cappuccino and latte enthusiasts, this machine offers a seamless milk frothing process through its hot steam wand. The steam wand's 360-degree rotation ensures the production of silky and smooth milk foam, allowing you to create cafe-quality beverages at home. Equipped with a precise dual temperature control system, our machine empowers you to adjust the water temperature and milk foam taste, enabling you to achieve your desired flavor profiles. Experience the perfect balance between foam, coffee, and milk, all tailored to your preferences.
The machine features a highly clear control panel with a temperature dial that allows you to effortlessly monitor temperature changes. This visualized operation is especially suitable for beginner coffee lovers.
Pros
More affordable than other coffee machines
Good value for money
Thick creamy froth
Prepares all types of coffee
Video: Gevi Espresso Coffee Machine
5. Nespresso Lattissima Touch Original Espresso Machine – Best for Latte
Sale
Last update on 2023-09-29 / Affiliate links / Images from Amazon Product Advertising API
FIRST IMPRESSIONS
This
machine
comes in the color black and looks like a typical coffee maker. What sets this apart from the others would probably be the milk carafe. It holds approximately 0.35 liters of liquid, and you can store it in the refrigerator after making your coffee.
PERFORMANCE
Some people don't enjoy the strong flavor of coffee but still, need their caffeine fix. This might be the right coffee maker for those people since this is ideal for making lattes. You can change the quantity of milk you want to add, and it also has a sliding drip tray. Aside from milky lattes, this machine can be used to make hot chocolate as well. One of the main benefits of this coffee maker is that it gives you cleaning alerts. If it's time for descaling or time to clean the milk carafe, the machine will let you know.
Pros
Ideal for latte lovers
Has cleaning alerts
Comes with a detachable milk carafe
Sliding drip tray
Cons
Limited temperature settings
Video: Nespresso Lattissima Touch- Rapid Cappuccino System