I tried super-automatic coffee machines during a trip to Switzerland and was impressed. These machines make making coffee a breeze. With all those flashing buttons and touch screens, you feel like an espresso master. And not only that. It seems that at the touch of a button, you can make any coffee drink – espresso, latte, macchiato, lungo, cappuccino and more – with the perfect acidity and consistency.
Today, we're going to try to figure out whether anyone can actually make the perfect cup of espresso with a super-automatic machine and what kind of machine you need to choose for this purpose.
Are Bean-to-Cup Machine Perfect in Espresso Making?
Coffee snobs claim that coffee machines, especially those in the lower and middle price segment, cannot make good espresso. How true is this?
The fact is that when making espresso in a superautomatic machine, a person seems to be removed from all the processes, they are controlled by the machine. Thus, the difference between super-automatic and semi-automatic coffee machines is that the superautomatic machine automates the entire process of making espresso: it grinds the beans in the built-in grinder, weighs out the right amount of beans for brewing coffee, tampers this mass, heats the water to the right temperature, feeds it to the ground beans, and simultaneously or after that – it depends on one or two boilers built into the system – measures and heats milk and adds it to the drink. It even disposes of the used grounds for you.
This is the essence of the "bean-to-cup" concept, which means that the machine takes whole coffee beans and turns them into a delicious cup of espresso, all in one machine. With a super-automatic espresso machine, all you have to do is put in the coffee beans and the machine will do the rest.
And what about how a person is involved in this process? In the case of super-auto, the man (or woman) get the most important part of the job – set the right settings. And this is where most unprepared users fail. Especially if they have never had experience with superautomatic machines and have only ever dealt with semi-automatic or manual breweries before. The settings vary tremendously from machine to machine, and there is no one-size-fits-all recipe.
What Extraction Is and Why Is It Important in Super-Automatic Machine?
Extraction refers to the process of extracting flavor, aroma, and caffeine from ground coffee beans by transferring them to water during their contact. It's a crucial element in the production of coffee, and it's influenced by various factors such as the ratio of water to coffee, grind, area of contact, time, water temperature, and pressure. These factors ultimately determine the quality and taste of the coffee.
In a super automatic espresso machine, it takes 24 seconds to make espresso. Given the high pressure with which the machine passes water, this time is enough for the coffee to be saturated with caffeine to the fullest extent. This ensures that the extraction process is consistent and produces the same high-quality coffee every time. And, the machine can precisely control the extraction time and temperature, resulting in a well-balanced and delicious cup of coffee.
I personally, as well as most of my professional barista friends, are of the opinion that a super-automatic coffee machine can make the same full-bodied espresso as a professional one. As many coffee machines on the market today offer features and performance, it will allow you to create delicious espresso drinks at home. In fact, if you know how to set the right parameters, even inexpensive automatic coffee machines can produce high-quality results. Therefore, all you need to turn into a real barista is to understand the settings of your coffee machine for your favorite coffee drinks, whether it's doppio or lungo, and hone your skills to make the perfect cup of espresso with a thick foam and aftertaste sooner or later.
Choose The Right Beans
The most important thing without which you will not achieve your perfect cup of espresso has nothing to do with the espresso machine. You definitely need to start with the choice of coffee beans – mediocre beans will never make great coffee. One of the main reasons why you don't get the results you want is the quality of the coffee beans you use. The roasting of the beans is also important, as it affects the strength of the drink. Here are the main things to look for when choosing beans.
Look for good beans at local roasters rather than buying pre-ground coffee from stores. Also, for home use, it's a good idea to buy small rather than huge bags of coffee beans so that you always have fresh beans, as they lose their flavor over time.
Although some superautomatic models have the option of using pre-ground coffee, we recommend using rested but freshly ground coffee rather than pre-ground coffee.
Use a blend of Arabica and Robusta which is the best for espresso. Arabica is added for acidity, sweetness and flavor. Robusta – for density, strength, bitterness and creaminess. The ratio is as 75 percent to 25, or 85 percent to 15, Arabica takes several varieties, Robusta takes one. Besides, choose the roast you like.
Make sure the beans are suitable for your espresso machine. For instance, oily coffee beans will affect the taste of your espresso and more importantly, greasy coffee beans will eventually degrade the performance of your machine. In addition, coffee in caramelized or flavored beans can also spoil the equipment. Therefore, another rule for choosing coffee for coffee machines is to buy pure, without any aromatic additives.
Keep In Mind Water Quality
The quality of the water used to brew coffee has a major impact on its taste and the longevity of your espresso machine. Two points are important with water: water hardness and mineral impurities. City tap water can contain minerals and impurities that affect the taste and performance of your espresso machine. Some super machines have built-in water filters.
The purpose of a water filter is two-fold: to improve the taste of coffee and to maintain the longevity of your coffee machine. As fresh water is mixed with oxygen, it creates bubbles that are essential for brewing good coffee. A filter helps to remove impurities and minerals that can negatively impact the flavor of coffee and cause buildup in the machine over time. By using a filter, the intervals between descaling your machine can be extended, ensuring its proper function and helping to preserve the quality of your coffee.
Thus, water filters can help fight clogging of water, but cannot affect its hardness in any way.
That's why experts in the coffee machines' maintence and repair advise using bottled water, it has been implemented as a gold standard at world barista competitions. Bottled water with fixed properties ensures that your coffee is brewed with clean, pure water and helps extend the life of your espresso machine.
Balance User Interface and Programmability
Your newly purchased automatic espresso machine will either have buttons, a touchscreen display, or both. You will use them to give commands to your machine. This method of interaction is called the buzzword "interface". A good interface should be intuitive, meaning it's easy for users to understand what each button or icon does. One way to achieve this is to make the controls simple and easy to understand. For example, using main buttons instead of a touchscreen display can help eliminate the need for endless scrolling through menus, making it easier for users to quickly find and use the functions they need. In some cases, a display may not even be necessary if the buttons are self-explanatory and clearly indicate what they do, providing a more pleasant and efficient experience.
Balancing between programmability and customized options with intuitive ease of use is important for ensuring that a super-automatic espresso machine provides a satisfying user experience. This is because having a large number of options and settings is great, but it means nothing if the user can't easily find and use these features. To determine the ease of operation of a super-automatic espresso machine, it's important to consider whether you can set all the parameters to make well-balanced espresso and coffee drinks without having to constantly refer to the user manual.
Search For Ease of Cleaning
I guess you wouldn't want all your Saturdays to turn into a day to clean your supercar, would you? And this is quite possible, because all the internal devices of a complex espresso machine – the brewing group, the coffee grinder, the coffee grinder, the water tank, the drip tray and the container for the coffee grounds – need to be cleaned regularly, some less frequently, some more frequently.
Choosing a machine that is easy to clean is essential for maintaining its performance and prolonging its lifespan. A daily routine of rinsing and drying the various components, as well as cleaning the milk system, will keep the machine running smoothly. A weekly thorough clean, including running a cycle with detergent, will ensure the machine stays in top condition. Easy cleaning not only helps to keep the coffee tasting fresh but also adds years to the life of your machine.
Ask About Customer Service
A super-automatic espresso machine is a high-tech device with a lot of built-in heaters, controllers, and more. So what do you do when one fine (or not so fine) morning something goes wrong with your machine, like a water leak or the message "Error Code 14" appears on the touchscreen of your Philips Espresso Machine?
It is clear that sooner or later you will have to contact the support service of the store where you purchased the machine, especially if the warranty period has not yet expired. By the way, it would be good to distinguish quite clearly when buying which specific breakdowns fall under the warranty. For new machines, as a rule, the reason for a full exchange is a breakdown of the internal pump when it loses its ability to pump or heat water well within the warranty period. Cases of factory defects are also possible, which also leads to a legal exchange of your newly purchased espresso machine.
Therefore, before buying a machine, it is worth reading customers reviews about the customer support service, checking whether there is a telephone number for the support service. Then you will have a rough idea of how long you need to wait for a qualified specialist if you need to repair or replace parts. You don't want to go two or more weeks without coffee while your machine is showing a programming error, do you?
Here we have compiled a kind of rating of espresso machines for home use. We didn't take into account machines costing less than $500, because no manufacturer can provide acceptable quality for this, as we said above, high-tech device. Also, we do not consider too expensive machines priced about 4K, limiting ourselves to the mid-low price category, assuming that we are choosing an espresso machine for the beginner.
Top 5 Best Super-Automatic Espresso Machine
If you're looking for an entry-level automatic espresso machine, the Solis Barista Perfetta should definitely be on your list. Considering that it costs around $500, it's very cheap for a super machine. Let's see what functions you can get.
Solis Barista Perfetta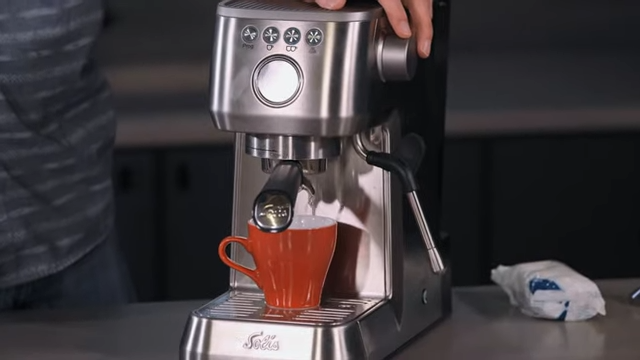 The Solis Barista Perfetta Plus Espresso Machine is a top-performing machine with features typically found in higher-end models. The 54mm group head makes it a compact option for those with limited counter space. The 1.7L removable water reservoir is surprisingly large for the compact size of the machine. The pressure gauge on this machine is not only present but also extremely useful, making it easy to dial in the perfect espresso shot.
One standout feature of the Solis Barista Perfetta Plus is its auto pre-infusion which helps to ensure an even extraction and minimize channeling by adding a small amount of water at lower pressure before applying pressure to the coffee puck. The Perfetta Plus is quipped with both pressurized and non-pressurized filter baskets, making it suitable for single and double shots.  Additionally, there is a specific filter basket designed for use with ESE coffee pods.
The temperature settings on this machine are also adjustable, which is a rare feature in an entry-level machine. This allows for customization based on coffee roast levels and personal taste preferences.
While the Solis Barista Perfetta comes with a professional steam wand with a single-hole tip, it's worth noting that the steam pressure may not be as high as some premium professional machines. Another drawback is that Solis Barista Perfetta professional steam wand may require a bit more practice compared to the Panarello wand. Nevertheless, the steam pressure is sufficient to froth milk for a cup. With a little practice, one can produce velvety milk foam for latte art.
Video: Solis Barista Perfetta Plus: Delonghi Dedica Destroyer or Not?
The De'Longhi Eletta is one of the cheapest coffee makers in the category, priced at $1,200, but it can also surprise you with a wide selection of coffee drinks.
De'Longhi Eletta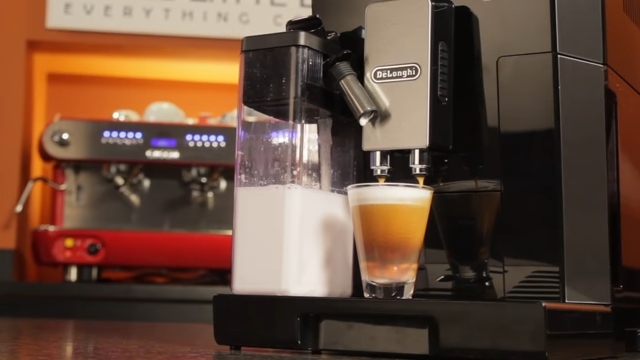 The De'Longhi Eletta Automatic Coffee Machine has an innovative design and development technology that helps you to make a double shot of espresso from nearly any kind of coffee cup.
This machine offers automatic options to make various coffee beverages including espressos, cappuccinos, lattes, flat whites, iced cappuccinos, iced lattes, americanos, doppios, and more. It also features a hot water setting for tea and a hot and cold frothed milk function with two separate attachments. The cold milk frother is a standout feature, as it allows for longer-lasting iced coffee without dilution from melted ice. Both milk frother attachments offer options. The dynamic controls make it easier for you to make adjustments to your own taste preferences.
Hot milk drinks produced by the machine are of a suitable temperature, with the flat white being the standout among them. However, the regular coffee produced by the machine leaves something to be desired, with the americano being a preferable alternative. The only feature missing from the Eletta Explore is the option to add an extra shot of espresso without manual intervention after the brewing process has been completed.
The design of the Eletta Explore is sleek and user-friendly, making it easy to integrate into daily routines. According to consumer reviews, the product impresses with its limited room for user error, ensuring that the steps are performed in the correct sequence to achieve optimal results. Although the instructions are not exhaustive, after a little experimentation, the user is quite capable of figuring out a few missing details, such as the correct technique for using the milk frother.
There are cases when, despite advertising materials, consumers note that the American model Eletta Explore may not have a Wi-Fi connection.
Video: De'Longhi Eletta – Exploring the Brand New Machine
Next on the list, we have a surprisingly small super-automate for $1,400, which doesn't try to cover everything, but focuses on the basics, and makes it well.
Jura ENA 9 One Touch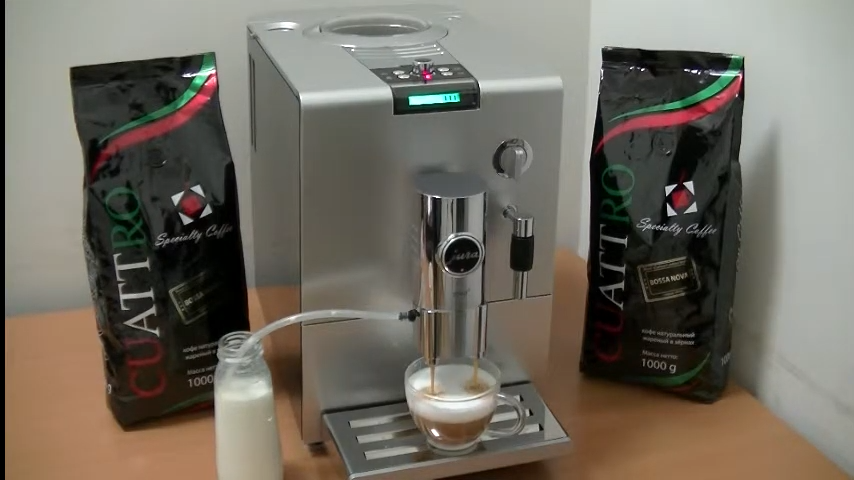 A burr grinder works in such a way that you can get a consistent, uniform size of grind each time, which is one of the key aspects of getting great tasting espresso. The machine uses a single boiler, which means you can't steam milk and brew coffee at the same time. However, the appliance heats up very quickly, so in practice, additional waiting time is minimal. This coffee machine can make six different specialty coffee drinks at the touch of a button, users can adjust various functions such as temperature and water content to get the perfect cup of coffee.
The bean hopper capacity is only 4.5 ounces of coffee beans and the grinder only has five grind settings. While this may be sufficient for those new to specialty coffee drinks, more experienced users may eventually desire greater control over their coffee making process.
The machine is easy to use and has great cleaning functions, with no need for descaling due to its water filter. Using cleaning tablets is recommended for optimal performance and maintaining cleanliness is easy with removable trays that can be washed and reinserted quickly.
The Jura ENA 9 falls short in terms of producing hot cappuccinos, compared to those served by popular coffee chains like Starbucks and McDonalds. The automated steam and frothed milk do not reach the recommended serving temperature of 150°F, leading to warm cappuccinos that may require reheating. While the temperature of cappuccinos from the ENA 9 a is around 130°F, those from Starbucks and McDonalds are typically between 142°F and 150°F. Despite this drawback, users of the Jura ENA 9 still appreciate the machine's ease of use and quality of frothed milk.
Video: Jura ENA 9 One Touch Cappuccino
The Miele is not a brand that attacks the consumer with catchy slogans; it simply produces reliable coffee machines. Meet the mid-range one for $1,600.
Miele CM 6300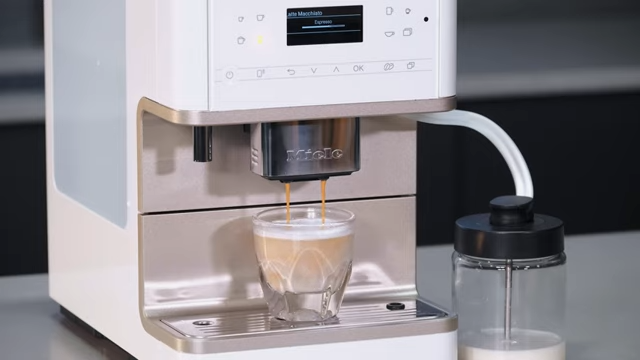 The Miele CM 6300 Coffee Machine is easy to use with one touch control, durable built-in stainless steel conical burr grinder and 300g bean capacity (as well as pre-ground coffee option). It features AromaticSystem for optimal coffee extraction, OneTouch function for automatic coffee preparation, and OneTouch for Two function for two cups simultaneously. It also has a Cappuccinatore for cafe quality milk froth.
Its adjustable coffee spout accommodates mugs of various sizes and allows you to customize each drink's style. To choose the size of your drink, the machine runs a cycle, giving you a visual representation of how much liquid fits in your preferred mug. You can also adjust the strength and temperature of your drink using either the menu system or the front-panel preset buttons and allows you to customize your coffee to your taste and portion size.
The machine does a great job of rinsing its own milk pipework and hot water flush, leaving no trace. The waste container and drip tray are dishwasher safe, and the facade and brew unit can be easily rinsed under running water. The two milk texturing pipes are also dishwasher safe.
One of the most common problems is that the coffee machine does not make coffee from the box and gives an error "fill the bean container". This problem is not a malfunction of the coffee machine, but is caused by the fact that the factory setting is to grind coffee "fine" and this can actually lead to clogging. This problem is usually related to the settings and improper cleaning. However, this machine gives plenty of warning when maintenance is due.
Video: Miele CM6360 Coffee Machine Review | Pros & Cons
The Oracle Touch, the most expensive of the Brevile espresso machines, costs about $2,650, looks like a great gadget machine similiar to commercial espresso machines.
Breville Oracle Touch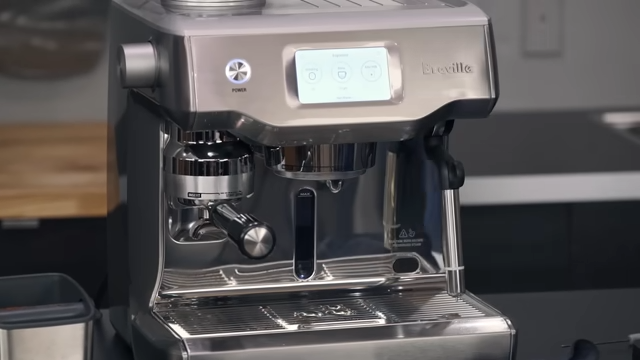 The Breville Oracle Touch is a fantastic coffee maker that offers a wide range of settings to choose from with automation of every step thanks to the touch screen. If you are unsure about how to make the perfect cup of coffee, the machine has a tutorial directly on the screen that takes you step by step through the process.
One of the key features of the Breville Oracle Touch is the built-in grinder automatically grinds, doses and tamps 18-22 grams of coffee. That allows you to choose the coarseness or fineness of the grind with a simple dial. The machine also has preset options for popular drinks such as latte, cappuccino, flat white, espresso, and long black.
The dual boiler system of the Breville Oracle Touch allows for brewing and frothing milk at the same time, which is a very convenient option for coffee lovers, as well as an automatic power-on timer. The milk wand produces a fine frothy texture, perfect for lattes. The machine also has a large 2.5-liter water tank and a replaceable water filter for added convenience, together witn locking mechanism to keep it securely in place on your kitchen counter.
Nevertheless, the machine requires regular cleaning and maintenance and has various tools for both, and remember about the cost of water filter replacements and other consumables. Also, the customers have reported that the customer service team won't allow the unit to be replaced even if there is an issue, as the warranty only covers repairing and not replacing.
Video: Breville Oracle Touch – The TRUTH about Breville's Most Expensive Espresso Machine