You may have noticed that all coffee in coffee shops is brewed right there in front of you from ground coffee beans, not packaged pre-ground coffee. Many experts will give the same advice if you want the
perfect tip
 for making a delicious cup of coffee: use only freshly ground coffee beans. When beans are brewed within minutes of processing, coffee is the richest and truest to its natural taste. That's why coffee machines are such a luxury with built-in grinders. In this article, we present you with the Best Coffee Maker with Grinder that you should consider when buying one.
Baristas everywhere will tell you, the coffee grinder is just as crucial as the coffee machine itself. And we've explained why in detail in our recent article Top 5 Best Coffee Grinder – Buyer's Guide. So if you're a happy coffee machine owner, you just need to buy a grinder to enjoy all the benefits of freshly ground coffee.
If you're just thinking about buying a coffee machine, you might ask yourself why not buy a coffee maker with a built-in grinder? Especially if the daily routine seems too burdensome and you want to make your life a little easier by purchasing a coffee maker with a grinder. Let's look at this perspective in more detail.
2-in-1 Coffee Maker's Price: Can I Save Something?
We start with perhaps the most important thing about a coffee maker with a built-in grinder – the price. I have bad news for you – you won't be able to save money. It would seem that buying a coffee machine with a built-in grinder would cost you a little less than buying both devices separately. But no! On average, not bad coffee maker, such as the OXO Brew 8-Cup, costs $200, and a level-enter grinder (without ability of fine grind for espresso), such as the Baratza Encore, costs about $120, which is comparable in price to a two-in-one device with the same so-so espresso capabilities, such as the Breville Grind Control, which costs between $330 and $350.
Again, if we move on to the segment of good espresso coffee makers, we find that the same OXO Brew 8-Cup and Eureca Silenzio Coffe grinder cost about $650 together, which almost corresponds to the regular price of the best budget coffee machine De'Longhi EC9155MB La Specialista Arte Espresso – $700.
However, even though you can't save money, you can save on at least two things: storage space and energy consumption. By purchasing a coffee maker with a built-in grinder, you don't need additional storage space for the grinder. As well, you will save on electricity consumption – one appliance plugged into a wall outlet will cost about half the price of two different ones!
Main Benefit: Convenient and Simple Brewing
A coffee maker with a built-in grinder looks like a great thing because it simplifies the process of making coffee. Instead of having to grind the beans separately and then brew the coffee, the machine combines these steps into one. This eliminates the need for multiple appliances and the extra work of manually grinding the beans. Additionally, the machine is programmed to automatically start grinding, stop, and then start the brewing process, making it a very convenient and user-friendly option. Despite the complexity and programming of these machines, the user presses just one or a couple of buttons, and voila – here it is, the final product – a delicious cup of coffee.
Now we are going toward drawbacks of coffee maker with a built-in grinder. Let's start with a smaller one.
Built-in Grinder: Not Easy to Clean
Cleaning a coffee maker with a built-in grinder is a real pain in the beans. You see, the grinder parts don't just pop off like a cork from a bottle of champagne. Instead, grinds get stuck in all sorts of nooks and crannies, like the hopper, burrs, and brew bed. And let me tell you, those grinds will haunt you with every brew you make afterwards. So, if you're thinking of getting one of these boys, be prepared to put in some elbow grease to keep it clean. But I should note, that it's an issue in the big number of all standalone grinders.
And now we're staring down the biggest problem with coffee makers with a built-in grinder.
The Main  Issue: Limited Grind Settings
The vast majority of coffee grinder market experts agree that 2-in-1 grinders, which combine a grinder and a brewer, usually do not perform as well as standalone grinders. Built-in coffee grinders often have a limited number of grind settings, which can be a hindrance for those who prefer more control over the degree of grind. Obviously, freestanding coffee grinders have many more settings than built-in grinders (and this is evident even in the price showed above). Therefore, the grinding quality of built-in grinders is the biggest problem for those coffee enthusiasts who cannot imagine their day without a couple of cups of espresso. If you're going to brew espresso, a built-in grinder is definitely not the best choice.
Buyer's Guide
For a beginner, there are many temptations to buy a coffee maker with built-in grinder for around 200 or even less, and there are plenty of offers on the web at this price. But I wouldn't recommend buying a coffee machine with a grinder in this price range – in my opinion, it's a complete profanation of real coffee brewing. As we have already mentioned, a high-tech smart machine that makes great coffee cannot be that cheap.
I would advise avoiding machines like the Cuisinart Burr Grind & Brew Coffee Maker – it has only one setting, and the grind is so uneven that it doesn't look like a burr, but rather like a blend, or KRUPS Grind and Brew Auto-Start Maker – it is impossible to establish the exact manufacturer – in Europe or still China, or Capresso CoffeeTEAM Pro Plus – it is inaccuracy of measuring the correct dose of already ground coffee that affects the taste of the coffee, it looks too water and sometimes has a bitter aftertaste.
We start with a brew-and-grind machine that has really adequate functionality for relatively little money – the advantages of which are noted by both ordinary users and home baristas, but always keep in mind that it's still not a fine grinder like an espresso machine.
Breville Grind Control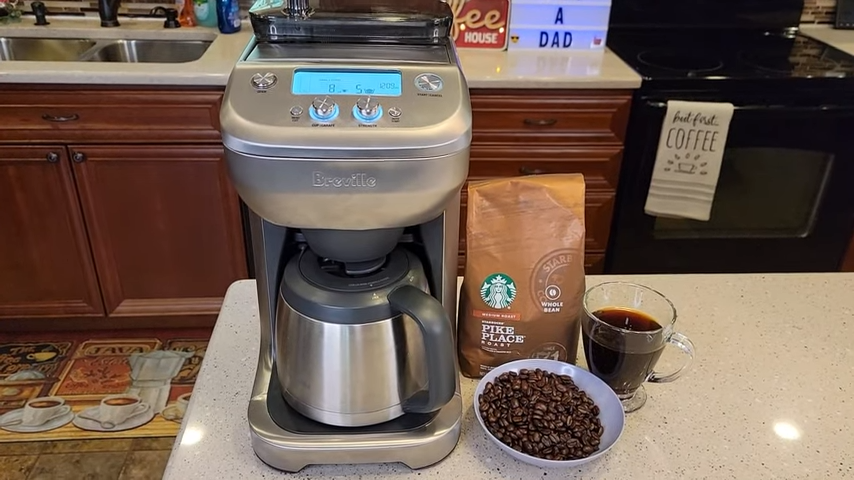 The Breville Grind Control Coffee Maker is a starting option for coffee enthusiasts. With the automatic start button, you can program the coffee maker to prepare your morning coffee at any time. The intuitive LCD panel is functional and simple to use.
One of the standout features is the built-in grinder that utilizes stainless steel burrs. This ensures a superior level of grind size uniformity compared to other coffee makers that use ceramic burrs. It produces the correct volume of freshly ground coffee with every roast of bean straight into the pour spout for your desired taste.
Another impressive aspect of the Breville Grind Control is its SCA Home Brewer Certification. This certification is not easy to come by, as it requires a specific water temperature to be met. This means that you can trust that the coffee brewed by this machine will be perfectly brewed, hot and delicious.
The thermal carafe is another great feature of the Breville Grind Control. It helps keep your coffee warm for hours, so you don't have to worry about it getting cold. The carafe also allows for multiple servings without having to brew multiple batches. It's an elegant addition that goes well with the sleek and modern design of the machine. The interchangeable filters and a selection of automatic or manual operation guarantee genuine coffee style results.
Yet, keep in mind that the machine may develop problems over time. Users report that the chute can get clogged with coffee grounds that haven't even made it to the filter or
coffee can start leaking from the bottom of the machine.
| | |
| --- | --- |
| Brew Styles | 1 |
| Burrs | Stainless steel flat burr grinder |
| One Touch Recipes | Single Espresso, Double Espresso |
| User Interface | Monochromatic LCD with buttons |
| Grinding Settings | 6 |
| Water tank capacity | 60.9 fl oz / 1.8 l |
| Brew capacity | 45 fl oz / 1331 ml |
| Single cup function | ✓ |
| Carafe | Thermal |
| Bean Container Capacity | 8.1 oz / 230.0 g |
Video: The Grind Control™ | How to brew your perfect coffee | Breville USA
If you expect your beans to be ground to the same quality as espresso, I would recommend looking at one of De'Longhi Magnifica with a built-in grinder. With a price tag of $550, is a great option for entering the world of real espresso made from freshly ground coffee!
De'Longhi Magnifica ESAM04110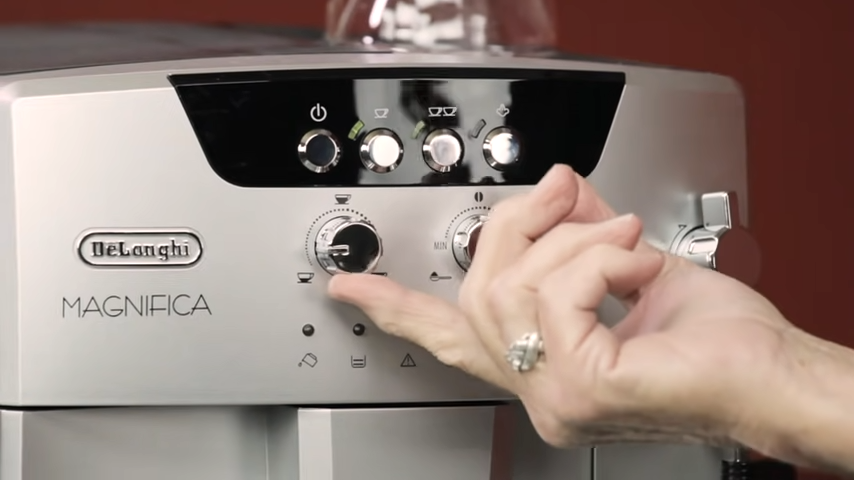 The performance of the De'Longhi Magnifica ESAM04110, upgraded from a manual DeLonghi, is truly impressive. It provides the great taste of the coffee it produced at the press of a button. The controls and settings are intuitive, making it easy to use and allowing for a perfect brew every time. The ability to adjust the grind settings to achieve the desired strength, and the option to use pre-ground coffee for a one-time brew is particularly appreciated.
The De'Longhi Magnifica may require some initial setup and reading of the manual, but the end result is well worth it – the effort put in during setup is quickly forgotten. It may take a few shots for the machine to settle in, but once it does, the shots become stronger and have a nice crema. The machine is user-friendly, with two rotary knobs on the console, one for controlling the amount of water per single shot and the other for adjusting the shot strength. The default setting is the 10:00 position for the water and full clockwise for the shot strength. The need for filling and emptying is minimized, unlike other superautomatics, making the brewing process more convenient and efficient. Additionally, a finest grind must be used for optimal results.
Among the disadvantages are the size of the water canister, it is a bit too small, and the container for storing beans could be a bit larger.
Cleaning this coffee machine can be a bit tricky. The biggest disadvantage is that the scale from the coffee grounds is automatically collected in a container that can break and scatter the grounds all over the inside of the machine, making it difficult to access certain internal parts for cleaning. Despite this design flaw, the easy and simple process of pouring in water and coffee beans more than makes up for it. It does require descaling regularly.  If you prefer flavor over ease of cleaning, I can recommend this coffee maker for deep brewing enthusiasts.
| | |
| --- | --- |
| Drink Options | Espresso (multi-length), Cappuccino, Latte, Hot Water, Americano |
| Burrs | Commercil-grade 60mm flat burrs |
| One Touch Recipes | Single Espresso, Double Espresso |
| User Interface | Rotary Control with Display |
| Milk Preparation System | Manual Steam Wand |
| Grinding Settings | 13 |
| Water Tank Capacity | 1.8 L / 60 oz |
| Temperature Control | – |
| Programmable Timer | ✓ |
| Average Heat-up Time | ≈ 55 sec |
| Bean Container Capacity | 7.1 oz |
Video: DeLonghi ESAM 04 110 S Magnifica Crew Review
The following coffee machine impresses with its original design and is quite expensive – $700 if you get a discount. Let's take a closer look at this bit of technology.
Gevi 4-in-1 Smart Pour-Over Coffee Machine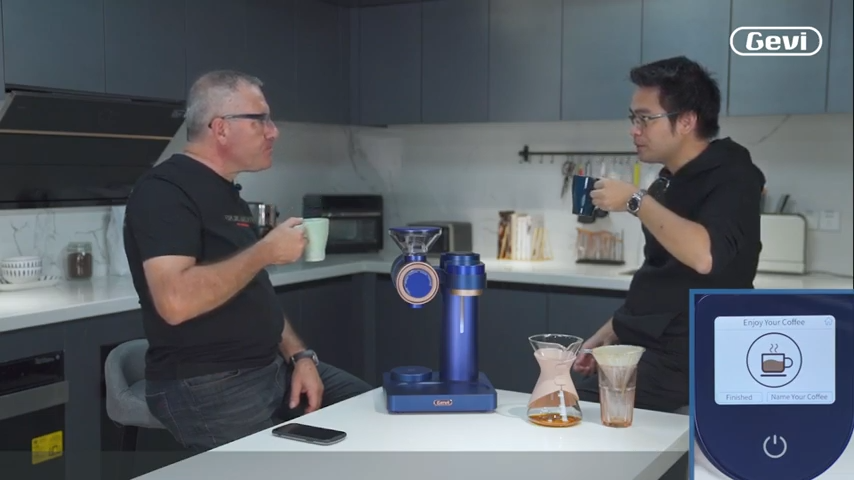 The Gevi 4-in-1 grinder boasts a sleek and modern design, making it a great addition to any kitchen. It begins with a commercial-grade burr grinding system featuring 60mm flat burrs and 51-step grind settings. The versatility of the Gevi 4-in-1 coffee grinder is impressive; the manufacturer promises not only the ability to prepare espresso with 51 grinding settings, but also a French press and pour over coffee.
What is unusual about this machine is not only its design, but also its function – the grinding function is completely separate from the brewing function. To use a machine recipe, skip the grinding step as it is part of the machine recipe and is included in the recipe.
The smart screen allows you to monitor the entire coffee brewing process – from information about the type and weight of the ground coffee to the brewing process itself: the recipe, the amount of water added, the temperature of the coffee during the boiling process, and the brewing speed.
Indeed, the grinder provides great consistency, the coffee grounds looked rather consistent. It allows for precision in brewing and maintains the integrity of the coffee's flavor profile. Gevi stands out in this aspect by utilizing flat burrs, which produce a more consistent grind, resulting in maximum flavor extraction without the risk of overheating and altering the taste of the beans.
This feature sets Gevi apart from traditional conical burr grinders, making it a great option for coffee enthusiasts looking to elevate their brewing game. And it's not just promises. Many users note that the built-in grinder in this coffee machine makes the coffee grounds look quite homogeneous, and, as a result, these ground beans produce perfectly brewed espresso.
Another feature that does not justify its purpose is the built-in scales, which should provide automatic weight measurement and display on the screen in real time. In practice, some reviewers report that, due to design flaws in certain parts, the water loses temperature quickly. Even when the brewer is programmed for the maximum temperature, the temperature in the coffee bed does not reach this mark, which can affect the quality of the brewed coffee.
| | |
| --- | --- |
| Brewing Methods | French Press, Filter Drip, Pour Over, Aeropress, Espresso |
| Burrs | Commercil-grade 60mm flat burrs |
| Automatic Mode | 3 steps |
| Automatic Barista Mode | ✓ |
| User Interface | Touch Screen with buttons and dials |
| Carafe | Borosilicate glass |
| Grinding Settings | 51 |
| Removable water reservoir | – |
| Water Spouts | 3, every of 360 Rotating |
| Programmable Resipes | ✓ |
| Bean Container Capacity | 3.5 oz / 100.0 g |
Video: Gevi 4 in 1 coffee grinder and pour over machine
The next item in my ranking is the Philips 3200 series espresso machine. Considering the price, it's not the best automatic espresso machine because it doesn't have the most advanced technology. Keep in mind that with fully automatic espresso machines, the entire process is done by the machine, and you won't have the opportunity to develop your skills in the details of the brewing process.
Philips 3200 LatteGo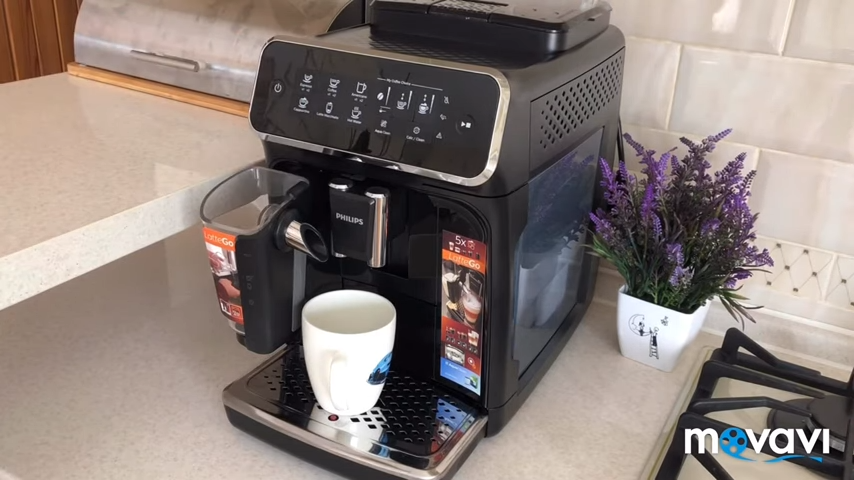 With its 12-step grinder modification, Philips Series Fully-automatic espresso machines have a fine to coarse brewing capacity. It has a simple coffee range with an accessible touch display. The grinder is built to be lightweight, while still keeping the beans and the grinding process free from moisture.
different settings.
The brewing system on the Philips 3200 Series super-automatic espresso machine is comparable to that of many top-rated latte machines, but at a more affordable price point. Additionally, this machine features an advanced option that I found to be a pleasant surprise. The machine comes with a built-in ceramic burr grinder, with 12 different grind size settings. This feature allows for some flexibility when experimenting with different types of beans, and is a nice addition to this machine.
Ceramic burrs are known for their durability, and are expected to last for the lifetime of the machine. Its grinders are 100% pure ceramic: incredibly hard and accurate, meaning you can experience at least 20,000 cups of new aromatic coffee. The new Aroma seal covers your coffee beans and guarantees that while reducing the grinder noise, they retain their initial aroma over time.
The Philips 3200 Series is equipped with an "intelligent brewing system," as advertised by Philips. This system is designed to select the optimal temperature between 194℉ and 208℉ to extract the maximum aroma from the coffee beans, and it does produce a delicious cup of coffee during according to the reviewers.
The instructions are a bit complicated, but the manufacturer has provided a video guide to make it easier to understand how to use. Among the disadvantages, some users note that the coffee maker uses too much water to make coffeeю Also, there is no way to make a large cup of coffee – the size of the cup holder allows you to put only a regular coffee cup there.
| | |
| --- | --- |
| Drink Options | Espresso, Late |
| Grinder | Ceramic flat burr grinder |
| User Interface | Touchscreen |
| Milk Preparation System | Manual Steam Wand |
| Grinding Settings | 12 |
| Water Reservoir Capacity | 60.9 fl oz / 1.8 l |
| Maximum cup height | 6.9 in / 17.5 cm |
| Minimum cup height | 3.3 in / 8.4 cm |
| Adjustable coffee temperature | ✓ |
| Adjustable milk temperature | – |
| 2-cup function | Yes (non-milk drinks only) |
| Bean Container Capacity | 9.5 oz / 270.0 g |
Video: Coffee Time with the Philips 3200 LatteGo
If you strictly decided not to spend over $1k on your coffeу maker with built-in grinder, the next option may be right for you.
Gaggia Magenta Prestige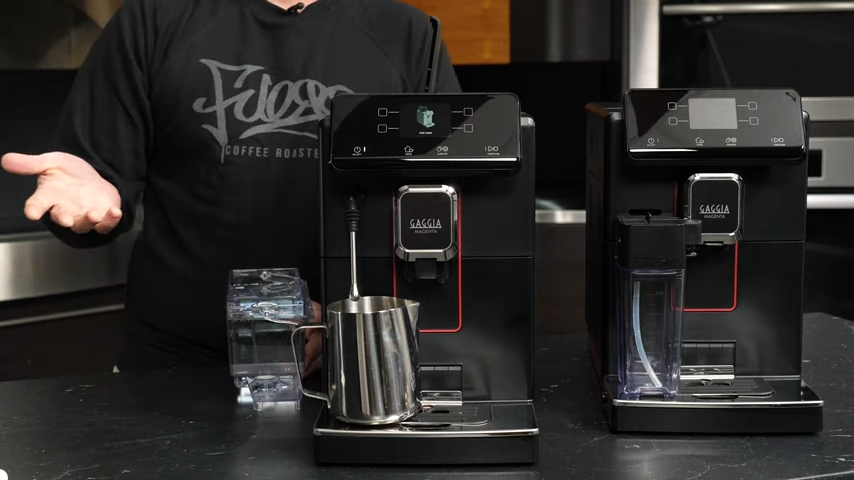 The Magenta Prestige coffee maker is made in Italy, and that says it all. This machine is a game changer for coffee lovers. Making changes to your favorite drinks has never been easier. With the ability to adjust settings to your liking, you can brew a perfect cup of coffee every time. And the best part? You can save your preferences for next time, so you don't have to keep adjusting the settings every time you want a cup of coffee.
The Magenta Prestige coffee machine is also a great addition to your home café. The crisp icon based navigation makes brewing fun and easy. The full color display, mix of plain text, color, and icons make additional programming a breeze, so you can focus on enjoying your coffee. The one-touch milk beverages feature also allows you to enjoy four distinct milk specialties at the touch of a button. Each drink is uniquely prepared, with coffee and milk dispensing varying per drink, and flat whites prepared with two consecutive shots of espresso. Additionally, the updated drip tray and cup riser are an innovative and simple solution to prevent splashing and also to provide sufficient clearance to tall cups.
The Gaggia Magenta Prestige may not produce espresso as strong as a semi-automatic machine, but it still delivers a satisfying and delicious cup. The convenience and cost-savings of this super-automatic machine make it a great option for those who want a high-quality espresso without the time and effort required for a semi-automatic machine. Despite a few minor quirks such as occasional prompts to empty the pucks even though it's not full or resetting the drink-making process when running out of beans, this machine is still a great choice for those looking for a convenient and easy-to-use option for home brewing.
| | |
| --- | --- |
| Drink Options | Espresso, Late |
| Burrs | Ceramic flat burr grinder |
| User Interface | Color TFT with buttons |
| Milk frother | Integrated carafe |
| Grinding Settings | 5 |
| Water Reservoir Capacity | 60.9 fl oz / 1.8 l |
| Maximum cup height | 5.9 in / 15.0 cm |
| Minimum cup height | 4.3 in / 10.9 cm |
| Adjustable coffee temperature | ✓ |
| Adjustable milk temperature | – |
| 2-cup function | Yes (non-milk drinks only) |
| Bean Container Capacity | 78.8 oz / 250.0 g |
Video: Review Gaggia Magenta Prestige Super Automatic Espresso Machine
We have also prepared some reviews of the best home appliances for coffee