Every day I pass by a local shop that sells coffee beans. I even stopped once to look through their assortment. Although I have been working as a barista for about seven years and know all the most common types of coffee, sometimes I ask myself what flavor I will get if I mix Ethiopia Yirgacheffe and Equator Coffee? Have you ever thought about the fact that if you have a coffee grinder at home, you can try many more varieties of coffee than you can in a couple of your favorite coffee shops?
And if you buy a coffee grinder, what kind? Manual or automatic? Small or big? Should you go for big-name brands or buy something from a local producer? Let's dive into the world of coffee grinders to understand which model might be right for you.

Let Invest in a Coffee Grinder
Pre-ground coffee has an unfortunate tendency to lose up to 60% of its flavor and aroma due to oxidation, making it a less than ideal option. Investing in a small grinder will unlock the full potential of your beans from experienced roasters – plus, convenience! With your own grinder on hand you'll be able to make freshly brewed coffee that packs a punch every single time.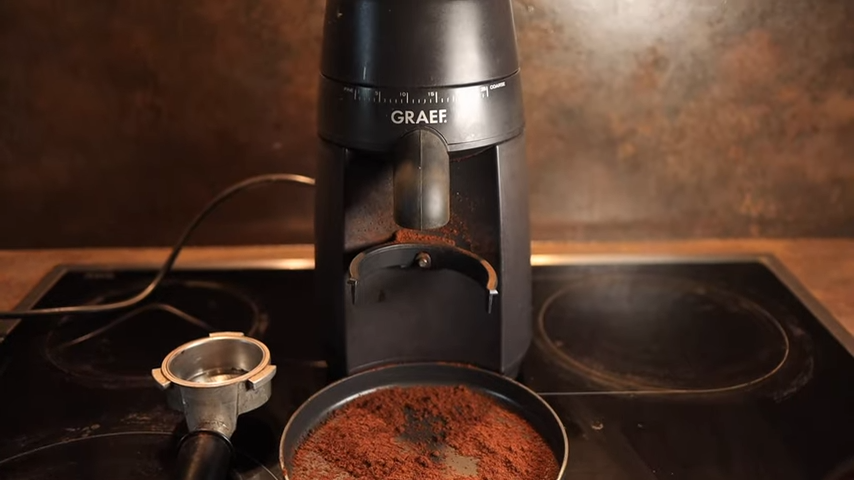 First and foremost, freshly ground coffee simply tastes better. Coffee beans begin to lose thei flavor and aroma as soon as they're ground, so when you grind your own beans, you're able to enjoy coffee that's fresher and more flavorful. Another benefit of having a coffee grinder is the ability to customize your grind size. Different brewing methods require different grind sizes, and with a grinder, you can adjust the grind to suit your specific brew method and personal taste.
Maybe, you do preffer a home-roasted beens? Then there are more information on how to do it in my recent article Home Roasting: Top 3 Online Resources.
Using a coffee grinder allows you to experiment with different beans and blends, giving you the freedom to try new flavors and find your perfect cup. While pre-ground coffee may be convenient, it simply can't compare to the taste and versatility of freshly ground beans.
As a professional barista I would advice you to think over owning a coffee grinder, as it may be an extra step in your coffee-making process! It's your opportunity to brew fresher, more flavorful and personalized coffee, which is worth the time and investment.
Grind Degree: from Coarseness to Fineness
The most important feature to look for when buying a coffee grinder is not the price or design, but the grind level of the grinder you choose and the ability to adjust it. Typically, buyers are guided by the degree of grind required for their own brewing method. A coarse grind can be used for French presses, while a fine grind is ideal for espresso and drip coffee.
Turkish coffee requires an ultra-fine grind, and this cannot be achieved with a regular grinder. Usually, you will have to use a special coffee machine designed to make Turkish coffee. You can learn more about how to make true Turkish coffee in my article Top 5 Turkish Coffee Makers – Buyer's Guide.
The type of grind also matters, as grinding is only one way to prepare coffee, which also has its own subcategories. There is burr-grinding, chopping, roller grinding, and pounding. Burr-grinding is the most popular coffee grinding technique, and there are both electrical and manual coffee mills on the market that can accomplish this.
Who still uses manual Coffee Grinders nowadays?
Even those who are not baristas or coffee drinkers know about the existence of manual grinders. Manual coffee grinders are used by coffee enthusiasts, home baristas, and people who value the ritual and control of hand-grinding their own beans. You might be suprised, but they are also popular among travelers and campers who want to have a fresh cup of coffee while on the go. Some people use manual grinders because they prefer the taste of coffee made from freshly ground beans, while others appreciate the convenience of having a portable grinder. Some people use hand grinders because of external circumstances, regardless of fashion – for example, if they live in places where electricity is not available, such as Alaska.
Can a manual coffee grinder be convenient? Or is it just an expensive interior toy to support the retro design of your kitchen? As for me, manual coffee grinders are valued mostly because of their nostalgic look. But, if you are looking for an antique grinder look, then along with used versions from over a century ago, you can find their imitation – new products made in an old-fashioned style. They are relatively cheap, unlike vintage coffee grinders, which can be no less expensive than their modern automatic counterparts. And those that are well-preserved can still offer excellent grinding results.
Despite the advantages of manual grinders, such as the ability to operate without electricity or to make much less noise, a manual grinder may not be for you. Especially if you make espresso that requires a fine grind. Espresso shots should be pulled as soon after grinding as possible, and manual grinding takes a longer to grind.
Manual coffee grinders require manual labor, as the name suggests, to grind the coffee beans. The task itself is not difficult and does not take long, but it does require some effort and can be tiring if you are grinding for multiple cups of coffee.  Or maybe you would't like to workout at 7 am to make yourself a latte.
On average, it takes about 1 minute to grind the beans for one cup of coffee using a manual grinder. However, this can vary depending on the specific grinder you are using and the size of the grind you desire. Despite the effort required, the positive benefits of using a manual grinder, such as the taste of freshly ground beans and the satisfaction of a hands-on approach, can be overwhelming.
What in an Electric Coffee Grinder is important?
As we have already mentioned, the most important characteristic of a coffee grinder is the degree of grinding of coffee beans. Often in advertising, you can find coffee grinders with one of two descriptions – stepped or stepless. Here are the settings they can offer:
Step grinders offer a variety of settings to choose from before you start grinding the beans.
Infinitely variable coffee grinders have no fixed settings. Generally, coffee grinders cost more if they have more settings.
Besides the degree of the grind, speed and heat are two important factors that can greatly impact the taste of your brew. Beware of grinders offering higher speeds, as it's a clear indication of a cheaper product that won't last that long. The high-speed motors create more heat which risks burning the coffee, producing a terrible tasting brew. You must prioritize models that grind at a slower speed. Low-speed grinders are called "direct-drive grinders" lookout for this phrase when browsing your options.
Heat is another important consideration (after particle size) that influences the taste of your coffee. If your grinder gets beans hot during the grinding process, it will burn the grounds and negatively affect the taste of your brew. Speed affects the heat of your grounds, and since substandard models have faster speeds, it makes sense to pay more money on a better product to control the speed.
So, an exceptional grinder is essential to guarantee that the ground beans stay cool while it grinds and that they don't form clumps. Imbalanced grounds, however, can create a variety of issues. With an optimal grinder you can be certain your coffee will have even distribution in the basket every time.
Grinding methods: Blades or Burrs?
Both manual and electric grinders can be equipped with a blade or a burr. Let's have a short look on both grinding methods.
Blade grinders don't actually "grind" your coffee beans. Instead, the two fast-moving blades simply smash them into small pieces. Unsurprisingly this approach has one major downside – by continually chopping and slashing at high speed you generate an array of inconsistent sizes ranging from powdery dust to large chunks!
Burr grinders are the real deal when it comes to grinding coffee beans – they crush between two burred plates known as "burrs". This can be flat or conical in shape and one plate remains static, while the other rotates. With a Burr grinder, you know that your coffee grounds will have a consistent texture for rich flavor every single time.
With a burr coffee grinder, you reap the benefits of grinding beans to an even size that brews an incomparable cup of joe. Not only does this avoid pesky clogging issues and provide convenience for different types of coffee makers, but it also allows you the versatility to customize your grind texture according to preference and desired taste!
We start from the entry-level options, which are cheapest non-manual coffee grinders available on the market – Capresso Infinity and Baratza Encore.
Capresso Infinity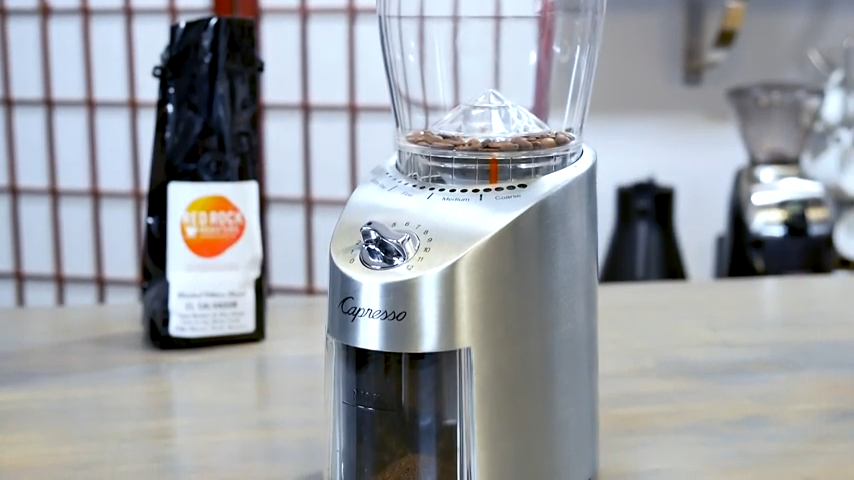 Personall, I have used the Capresso Infinity for a couple of years at home, which is a testament to its durability. And I have been overall pleased with its performance, despite the Infinity is one of the most affordable options on the market, usually retailing around $70-80 on sale.
This Stepless Adjust coffee grinder is designed for precise micro-adjustments to achieve the perfect drip coffee. With 50mm Flat Burrs made of hardened steel, it can easily grind pour over grounds. The Bottom Burr Adjust feature allows for easy disassembly for maintenance without losing your grind setting. The grind timer, a side-mounted potentiometer, allows you to set and save your ideal grind time for convenience and consistency.
The Infinity has been grinding well enough to produce fine crema shots from my Silvia machine. However, I have decided to upgrade to a Quamar M80 next week. I am looking for a grinder that has flat burrs instead of conical, and something that can improve shots on a prosumer machine. Overall, I would recommend the Capresso Infinity for home baristas or those looking for an affordable option, but for those looking for more advanced features, an upgrade may be necessary.
| | |
| --- | --- |
| Burrs | 50 mm Stainless steel flat burrs |
| Grind Settings | 16 |
| Power | 100 watt |
| Voltage | 120 volt |
| Weight | 7lbs (3.1kg) |
| Package Dimensions | 11.2 x 7.7 x 5.0 in / 28.4 x 20.0 x 12.7 cm |
Baratza Encore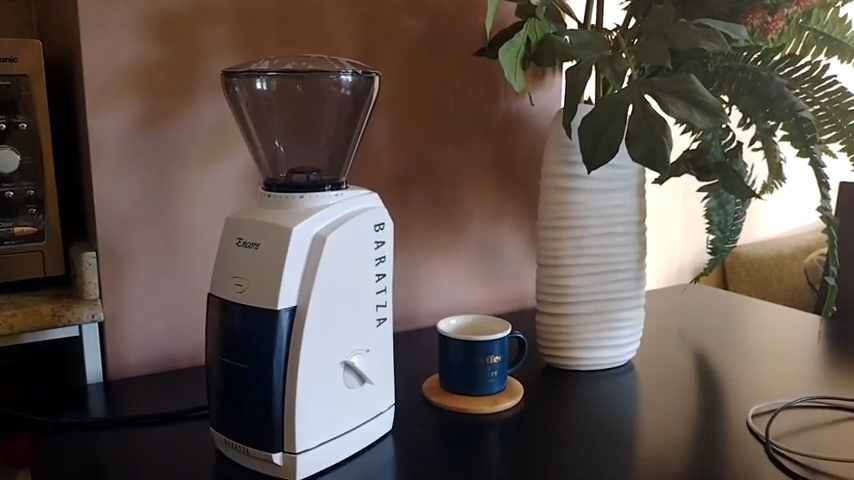 Baratza grinders are preferred by professionals – one of my barista friends has been using the Baratza Encore model for some time now and I can confidently say that it is a solid choice for a non-manual grinder. Baratza grinders are known for being affordable, reliable and don't need frequent cleaning.
The Baratza Encore features a convenient front-mounted pulse button and simple ON/OFF switch for grinding fresh coffee. With 40 grind settings, this grinder is engineered with 40mm commercial-grade conical burrs that provide an extensive range of grind options. The producer says that it is ideal for exploring various brew methods such as espresso, Aeropress, Hario V60, Chemex, French Press, and automatic brewers, but my barista friend insist it is good for every coffee except espresso and is definitely good for French press.
The Encore model is not any louder than any other coffee grinder, but the Baratza Virtuoso might be a better choice for an office setting though, as it can handle higher volume and has a timer. If you're looking to purchase a Baratza grinder, I would look at both the Encore and the Virtuoso. The refurbs come with warranty and are available on the Baratza website. The Virtuoso is very similar to the Encore, just built a little stronger with better burrs. And if you want to upgrade the Encore with Virtuoso burrs later on, it's possible too.
An advantage of Baratza is that they make replacement parts and instructions available for affordable repairs, rather than replacement. The Baratza Encore is slightly more then $100 refurbed, and they sell every single part for it if anything wil break.
| | |
| --- | --- |
| Speed To Grind | 0.8g/sec.—1.1g/sec. |
| Burrs | 40mm conical burrs |
| Bean Hopper Capacity | 8oz (227g) |
| Grounds Bin Capacity | 5oz (142g) |
| Weight | 7lbs (3.1 kg) |
| Package Dimensions | 12cm/ 35cm / 16cm |
Video: Baratza Encore vs. Capresso Infinity
JUNOESQUE ACE48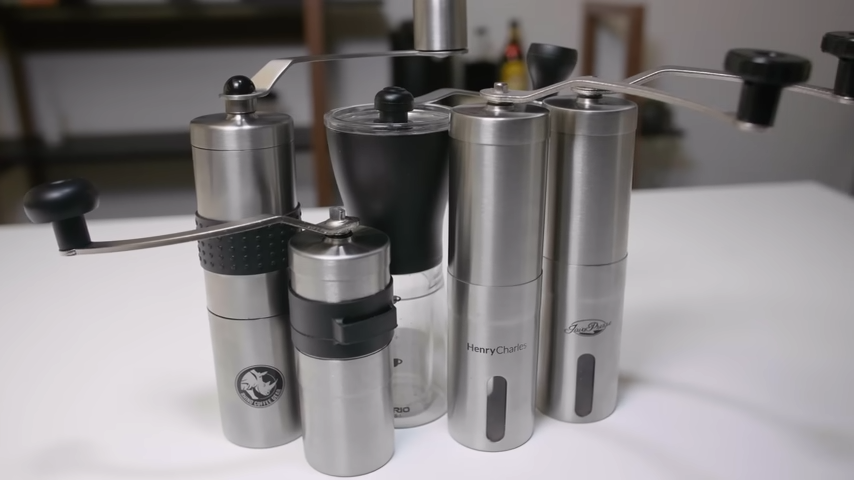 The JUNOESQUE ACE48 manual coffee grinder is one of those manual coffee grinder models that are as good as the previous two models and the price is also in the range of about a hundred dollars. From the first glance, the JUNOESQUE ACE48 manual coffee grinder is a true work of art. The matte black paint finish and shiny stainless steel ring are visually striking, but the precision engineering and solid build quality of this grinder are truly impressive, making it a pleasure to use on a daily basis.
This highly upgraded manual coffee grinder features a 1.9-inch large hexagon conical burr with double bearing and a unique spline design. The horizontal ball design and four layers of fixed central shaft make the burr stable and not offset, allowing for smoother and faster grinding and finer consistency powder, resulting in a purer flavor of Espresso.
With the built-in adjustable grind selector with over 18 click settings, you have complete precision control over the coarseness of your grind, making it perfect for a variety of brew methods such as Pour-over, Drip, Cold Brew, and French press, but especially tailored for Espresso, ensuring a perfect grind every time.
Despite its high-quality construction, there are a few minor imperfections such as a small speck of missing paint or anodization where the housing pieces connect, and the wood knob on the handle needed a bit of fine sandpapering and oiling. The grinds collection cup is a great feature, which screws securely into the main unit, and is not clearly depicted in the product photos. Additionally, the package comes with a very nice brush that is a lovely added touch.
| | |
| --- | --- |
| Burrs | 1.9 inches (48 mm) high-carbon steel hexagon burrs |
| Grind Settings | 18 |
| Burrs origin | Italy |
| Bean Hopper Capacity | 35 g |
| Weight | 1.67lbs |
| Package Dimensions | 8.23 x 4.06 x 2.64 inches |
Video: How to – Using a Hand Grinder
Bodum Antigua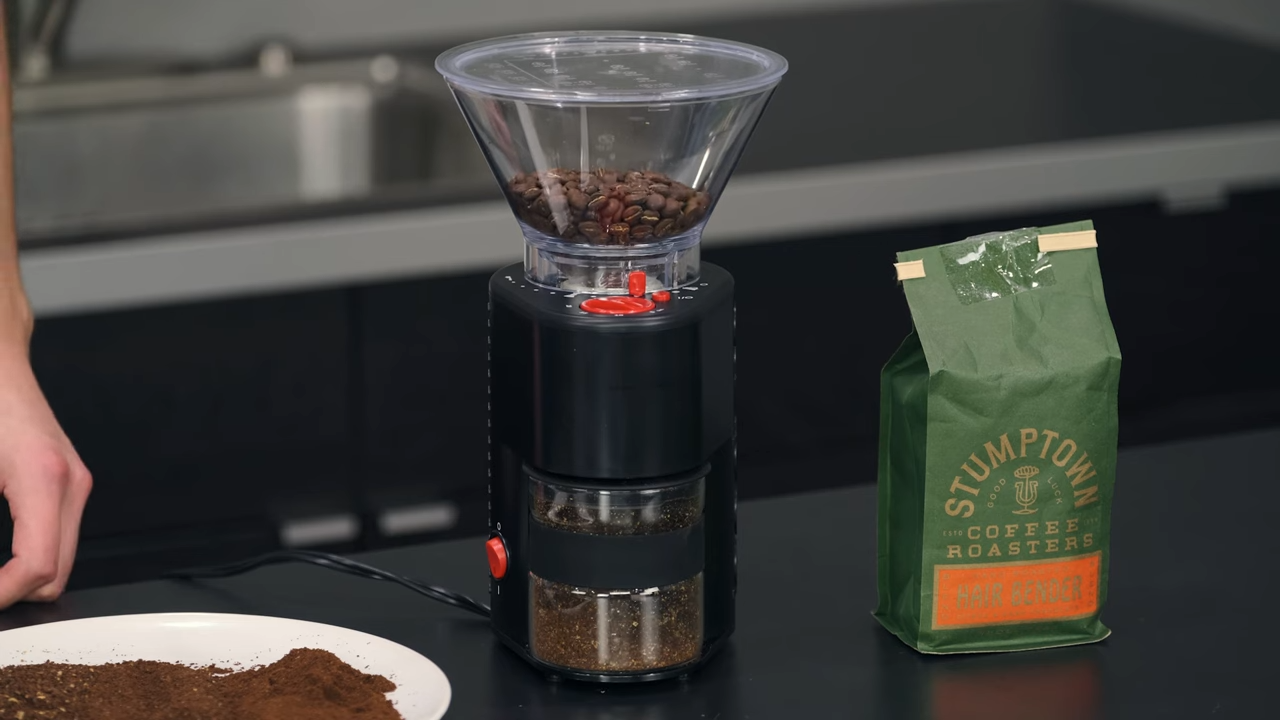 The Bodum Antigua grinder handles medium to fine grinds well, delivering excellent results. Among the grinders in the lowest price segment (just about $70), this is a significant improvement over using a coffee blade and spice grinder. Bodum coffee grinders use conical grinders, which are cone-shaped with sharp ridges molded into them that cut/grind the beans. This type usually provides a more even grind, less heat that damages the grains, and less powdery by-products. Most experts believe that this grinder is unlikely to produce an acceptable grind for espresso, but the Antigua is ideal for drip coffee and some French press coffees.
Measuring 8 by 10-1/2 inches, the Antigua is a smaller version of a professional coffee grinder for home use that takes up the same amount of the top as a traditional 10-cup coffee maker.
When using the product, it's important to keep in mind a couple of things. Firstly, the timer knob that controls the duration of the grind may require gentle handling as it is a bit delicate. Additionally, some of the settings on the knob may not match the standard amount of coffee used for each cup.
While the bowl may be larger than expected, it allows you to grind a decent amount of coffee at once. Just be sure to avoid running the grinder for more than 2 consecutive cycles to prevent overheating. While the locking tabs on the bowl may break over time, with some effort, it's still possible to grind coffee until it's time to replace the unit. Like many grinders, static electricity can be a bit of an issue, but this is a minor inconvenience when you consider the overall value that this product provides.
| | |
| --- | --- |
| Burrs | Stainless Steel conical burrs |
| Grind Settings | 8 |
| Power | 150 watts |
| Bean Hopper Capacity | 1/2 pound |
| Weight | 4.5 pounds |
| Package Dimensions | 11.2 x 9.3 x 8 inches |
Breville Smart Grinder Pro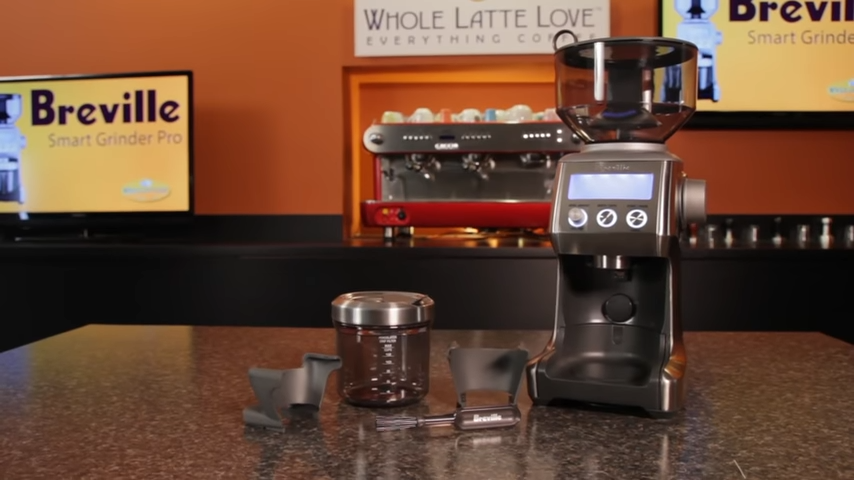 If you're looking for a good espresso grinder that won't break the bank while trying to keep within $200-$250, the Breville Smart Grinder Pro can be a solid choice, but still deliver good quality.
The Breville Smart Grinder Pro is ideal for coffee novices who like darker roasts and don't plan on getting too detailed with their coffee. The manual offers 60 precise grind settings, ranging from the finest Espresso to the coarsest French Press grind, and the digital display for making adjustments is quite nice compared to many grinders that cost 2-3 times as much, making it a great option for my filter coffee needs. However, if you're already considering pressure control mods, you might want to consider investing in a better grinder.
If you want to achieve the best grind quality with your Breville Smart Grinder Pro, one important step is to adjust the internal burrs to a 4. The default setting is 6, and even at the finest setting, the shots may pull too fast and taste bitter.
To adjust the internal burrs, follow these steps:
Turn off the grinder and unplug it.
Locate the adjustment dial on the side of the grinder.
Turn the dial to the number 4.
Turn the grinder back on and test the grind by running a small amount through the grinder.
Adjust the grind setting as needed, remembering that a lower number equals a finer grind.
Keep in mind that after adjusting the internal burrs, you may need to experiment a little bit to get the perfect grind for your taste, but it will save you from wasting beans and help you to achieve a better quality of coffee.
| | |
| --- | --- |
| Burrs | 40 mm Stainless Steel conical burrs |
| Grind Settings | 60 |
| Power | 165 watt |
| Bean Hopper Capacity | 1 pound |
| Weight | 6.4lbs |
| Package Dimensions | 15.5″ x 6.0" x 8.5" |
Video: Breville Smart Coffee Grinder Pro – Learn to Use
Eureka Mignon Silenzio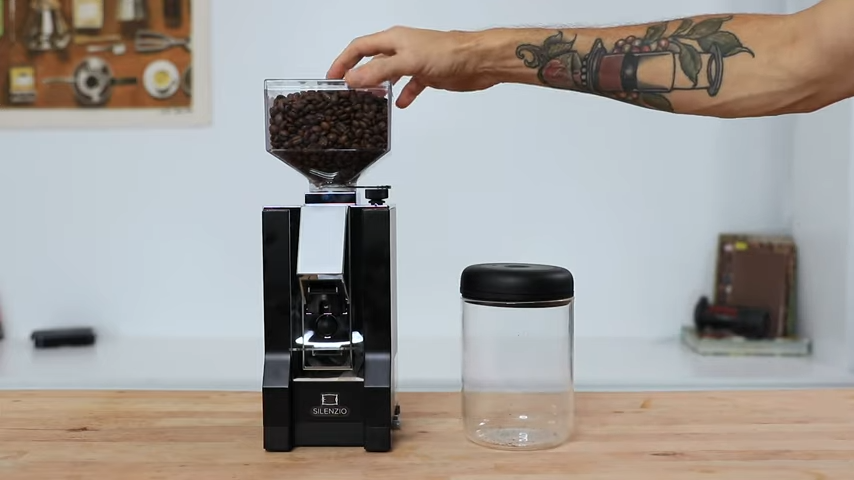 The Eureka Mignon Silenzio Coffee Grinder is a great option for those looking for a dependable and accurate grinder. The Silenzio is sound-insulated coffee grinder, designed with a thick metal case filled with rubber mounts, gaskets, and covers to ensure muted sound and low resonance. The grinder features stepless 50mm burrs, perfect for home use and made from resilient, hardened steel. With the Bottom-Burr Adjust feature, you can remove the top burr for cleaning without losing your grind setting.
The Mignon Silenzio is worth its almost $500 price tag for several reasons. Firstly, it is specifically designed for grinding espresso, ensuring that you get the perfect grind for your espresso every time. And this is also the biggest drawback of Silenzio – although it can grind coarser, the grind will be inconsistent and unsuitable for other brewing methods.
Besides, Eureka Silenzio is a whisper-quiet grinder, clocking in at only 73 dBA, so you can continue your conversations uninterrupted while crafting delicious and aromatic drinks. As well, a timed dosing feature also contribute to the grinder's ability to deliver precise and consistent grinds, making it the perfect tool for any home barista.
The durability and longevity of the grinder's components, such as the hardened steel burrs, ensure that it will provide you with a long-lasting, high-quality grinding experience. Overall, investing in the Mignon Silenzio is an investment in your coffee-making experience and the quality of your brew.
| | |
| --- | --- |
| Burr Speed | 1350 RPM |
| Burrs | 50mm Hardened Steel flat burrs |
| Bean Hopper Capacity | 300 g |
| Power | 220-240v |
| Weight | 5.6 kg |
| Dimensions |  18 cm x 35 cm x 12 cm |
Video: Eureka Mignon Silenzio Espresso Coffee Grinder Review