Even if you're not much of a foodie, you can still tell the difference between coffee drinks and hot cocoa. Have you ever wondered why we are able to clearly distinguish one from the other? Along with the obvious differences – you've probably heard a lot about the benefits of cocoa – there are some that many of us don't even realize. We decided to go through the entire process of producing coffee beans and cocoa beans from start to finish and see what differences exist.

The usual cocoa and coffee used to produce two of the world's most popular beverages, coffee and chocolate, are made from beans. And these beans grow on plants. Let's take a look at what these plants have in common and how they differ.
Coffee and Cocoa Plants
To begin with, coffee and cocoa plants are two distinct plant species. Coffee plants are small evergreen trees or shrubs (the Marena family), and is considered to be the birthplace of coffee in Africa, grow in tropical and subtropical regions around the world. They produce clusters of small, fragrant white flowers that eventually give way to green, cherry-like fruits that contain coffee beans.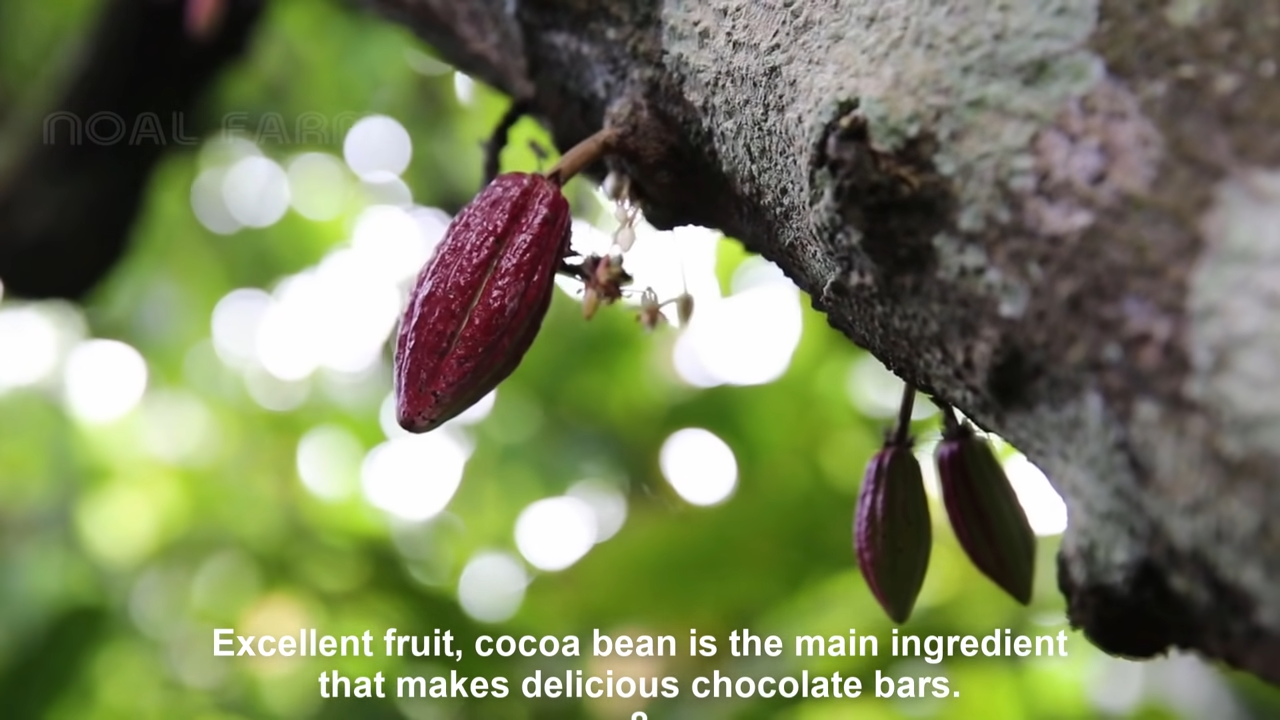 Cocoa plants (belongs to the Malvaceae family), on the other hand, are native to Central and South America, but are now grown in many tropical regions around the world. The plants are small, understory trees that require shade to grow. They produce large, colorful pods that contain cocoa beans.
Natural Unprocessed Beans – They Do Differ Each Other!
Coffee beans are much different from cocoa beans than they seem. Actually, apart from the fact that both types of beans grow on evergreens in warm climates, they have nothing else in common.
Appearance
Although we regularly use the terms coffee beans and cocoa beans, they both are not actually beans. Coffee beans are the pips (seeds) of the bright red berry and cocoa beans are the seeds of the cocoa pod.
As we've just said, the coffee fruits grow in clusters. round or oval-shaped fruits that grow on coffee trees. They are typically about the size of a grape or cherry, and can range in color from green to red or yellow, depending on the variety of coffee. A ripe fruit consists of several beans – from one to four each. The beans are typically from pale green to light brown in color, and are roughly the size and shape of a small almond.
The cocoa pods are large and oblong-shaped, and can be up to a foot long. The cocoa bean resembles a melon or a large lemon in appearance. The pods start off green and turn to a deep red or orange color when they are ripe.  Inside each pod, they contain many large seeds arranged in several rows and surrounded by a sweet, white pulp. The beans are small and flat, and have a dark brown color and a rough texture.
Fat and Calories
While both coffee beans and cocoa beans are rich in nutrients, there are some differences in their calorie and fat content.
Cocoa bean extract contains fatty cocoa butter, which is a rich source of healthy monounsaturated and saturated fats. As a result, cocoa beans are relatively high in calories compared to coffee beans. In fact, coffee beans contain about 5 calories per bean, while cocoa beans contain about 220 calories per bean. This means that even a small amount of cocoa bean extract or cocoa powder can add a significant number of calories to your diet.  However, it's worth noting that the calorie content of coffee can increase significantly when sugar, cream, or other additives are added to it
Caffeine Content
Coffee beans contain more caffeine than cocoa beans. One cup of coffee can contain up to 200 mg of caffeine, while one ounce of dark chocolate contains about 20 mg of caffeine. Caffeine is a natural stimulant that improves cognitive function and increases alertness. Caffeine from coffee has a stimulating effect on the human body, which is especially noticeable when you are tired. Excessive caffeine causes anxiety, insomnia, tachycardia, and other problems.
Other Chemicals
Coffee beans contain many antioxidants that help protect against disease.  Cocoa contains the alkaloid theobromine. Theobromine is a naturally occurring alkaloid found in cocoa, as well as other plants such as tea and kola nuts.  One of the primary effects of theobromine is that it acts as a mild stimulant to the central nervous system. It can increase alertness and mental clarity, as well as improve mood and reduce fatigue. Theobromine is also known to have a mild diuretic effect, which means it can increase urine production and help to eliminate excess fluids from the body.
Additionally, theobromine is a vasodilator, which means it can widen the blood vessels and improve blood flow throughout the body. This can have a variety of beneficial effects, such as lowering blood pressure, reducing inflammation, and improving cardiovascular health. Cocoa also contains a lot of magnesium, which has a beneficial effect on heart function. Everyone knows that cocoa chocolate acts as an antidepressant.
Flavor
The flavor of both beans is a result of their chemical composition and the way they are prepared for consumption.
Coffee beans are known for their rich, earthy flavor, which is a result of the combination of various compounds found in the beans. Coffee contains a variety of organic acids, such as chlorogenic acid, which contribute to the acidic and tangy flavors of coffee. It also contains a variety of volatile compounds, such as pyrazines, which give coffee its characteristic earthy and roasted flavor.
Cocoa beans have more chocolatey flavor that is often described as nutty or fruity. This flavor is primarily the result of the presence of various chemical compounds, such as flavanols, which are responsible for the bitterness and astringency of cocoa, and theobromine, which contributes to the overall flavor profile.
How Both Beans Are Prepared To Consumption
After harvesting, the beans need to be prepared for consumption, because people do not consume cocoa and coffee beans raw. In the hundreds (or even thousands?) of years that have passed since the discovery of these miracle beans, mankind has found specific ways of processing them.
Cocoa Beans
Both coffee beans and cocoa beans undergo a series of processing steps before they can be consumed. 
To prepare the cocoa beans for consumption, they undergo a process called fermentation. This involves placing the beans in large piles or fermentation boxes and allowing them to ferment for several days. During this time, the outer layer of the beans is removed, and the remaining beans are exposed to oxygen and heat, which activates enzymes and changes the flavor of the beans. The beans are then dried, which further develops their flavor and aroma. After drying, the cocoa beans can be further processed into cocoa powder or chocolate products.
Video: Drying of Cocoa Beans
Coffee Beans
To reveal the beans inside, the coffee beans are then cleaned and sorted to remove any defective beans or foreign matter. There are two main methods for processing coffee beans:
the dry method and
the wet method.
The dry method involves spreading the beans out in the sun to dry, where they are turned and raked periodically to ensure even drying. The outer layer of the beans is left intact during this process, and as the beans dry, they become darker and the flavor becomes more intense.
The wet method involves soaking the beans in water to remove the outer layer, then fermenting them to remove any remaining layers of fruit. After fermentation, the beans are washed and dried, often with the help of specialized drying equipment. This method results in a cleaner, brighter flavor profile compared to the dry method.
After drying, the beans are typically roasted to bring out their flavor and aroma. Roasting is a particularly important stage in bringing coffee beans to consumption, some even consider coffee roasting a separate type of coffee art. This involves heating the beans to a high temperature for a certain amount of time, depending on the desired roast level. Once the beans are roasted, they can be ground and brewed to make coffee.
Drinks: Way of Preparation
How are cocoa and coffee beans used? Yes, they are known for being used primarily to make great drinks – coffee and cocoa. The specific method of preparation can have a significant impact on the final flavor and texture of the beverage. The difference is that coffee beans are made into an extract, while cocoa beans are made into a suspension.
Coffee Beans – Extraction
For coffee, the most common method of preparation involves brewing the ground coffee beans with hot water, either by using a coffee maker or by steeping the grounds in a French press or other brewing device. The brewing process extracts the soluble compounds in the coffee beans, including caffeine, antioxidants, and other flavor compounds, and dissolves them into the water to create a flavorful and aromatic beverage. There are many different ways to prepare coffee, including drip brewing, espresso, and pour-over, and each method can result in a unique flavor profile and texture.
Cocoa Beans – Suspension
For cocoa, the most common method of preparation involves mixing the cocoa powder or beans with a liquid such as milk or water to create a suspension. The cocoa powder or beans are often mixed with sugar or other sweeteners to balance out the bitterness and create a more enjoyable flavor. The mixture is then heated to dissolve the cocoa powder and create a smooth and creamy texture. Some people also add spices like cinnamon or nutmeg to enhance the flavor of the hot cocoa.
Ways of Usage 
Cocoa Beans – Drinks and Cooking
Cocoa beans are used to make drinks such as cocoa or hot chocolate. However, the second use of cocoa, and if you look at the level of cocoa consumption in the world, even the first, is cooking. Thus, cocoa beans have a wider range of uses. In addition to making hot cocoa, cocoa beans can be used in a variety of desserts and baked goods. Cocoa powder, which is made from ground cocoa beans with the cocoa butter removed, can be used to make chocolate cakes, pastries and other sweet treats. Cocoa nibs, which are small pieces of roasted and crushed cocoa beans, can be used to add a crunchy texture and rich chocolate flavor to baked goods and muesli.
Cocoa beans and cocoa powder are often used in savory dishes, especially in Mexican and South American cuisine. For example, mole sauce is a rich and complex sauce made from cocoa powder and other ingredients used in a variety of traditional dishes
Coffee Beans – All Coffee
Coffee beans are basically about coffee. There are many options for roasted coffee beans on sale, ready to eat. They all differ in the country of origin, blend, blending of varieties, and degree of roasting. In addition to the classic pure coffee, there are many flavored beans, such as Irish whiskey or Canadian maple (read more in our article about maple coffee here).
You can use ready-made coffee beans for brewing classic drip coffee. But coffee is notable for the fact that coffee beans can be used to make a wide variety of coffee drinks, from the usual espresso, latte, and cappuccino to absolutely unreal cortados, macchiatos, and marocchinos.
Price – Coffee Beans Are More Expensive
The cost of coffee beans and cocoa powder can vary depending on the specific product. The price depends on various factors such as region of origin, logistical conditions, quality, organic cultivation, current market demand, etc. However, as a general rule, coffee beans tend to be more expensive than cocoa powder.
The price of coffee beans is higher because they require a more complex and labor-intensive process of growing, harvesting and additional roasting on sophisticated processing equipment. In addition, coffee plants require specific growing conditions, which are often limited to certain regions of the world, making them more expensive for farmers.
Unlike coffee cultivation, which is limited to the area between the Tropic of Cancer and the Tropic of Capricorn, the cocoa beans used to make cocoa powder are grown in tropical regions around the world. In addition, the technological process of producing cocoa powder is relatively simpler than coffee beans, which means that cocoa powder is generally more affordable than coffee beans.
Bottom Line – Try Both!
We seem to have reached the end and can draw some conclusions. Although cocoa – and coffee beans (which are not even a "bean" fruit from a biological point of view) grow on trees, they are no more related than apples and pears – they have completely different flavor and nutritional characteristics. These beans also differ greatly in the way they are prepared for consumption and in the way they are consumed. Coffee beans are almost 100 percent used to make coffee, while cocoa beans are widely used in cooking. So, in addition to improving your barista skills, we recommend you also try your hand at making homemade chocolate!